Archives For Technology
You can get $1 off Paperless Home Organization through March 10 using the code SIMPLIFY. Read my review here.
Continue Reading...
Do you find yourself woo-ed by all the pretty home management notebook printables that make their way around blogs and the internet this time of year? I do. It's terrible. I start to think my life would be so much more organized and things would run more smoothly if I had a pretty binder. But then I remember that I don't like dealing with tons of paper and I try to run our home as paperless as possible. Oh, I don't like binders because I'm a lefty and those rings get in my way.
Enter Mystie Winckler with Paperless Home Organization to save the day! You might recognize Mystie's name because she also wrote Simplified Dinners and it's companion GF/DF edition. Mystie helped you with your pantry, now she wants to get your home management system organized and simplified.
In Paperless Home Organization, Mystie takes you step by step through setting up a digital home management system using Evernote, Google Calendar, and Remember the Milk. The great thing about these resources is that they are FREE and available across platforms – Mac, PC, iOS, Android, web, mobile web, etc.
The whole system is based on GTD principles – that stands for Getting Things Done. It comes from the book Getting Things Done by David Allen. I've read it and it's a great book, by the way. You don't have to read David's book to make use of Mystie's system though. She explains the basic GTD concepts and terms in Paperless Home Organization.
Don't panic if this all seems foreign and overwhelming. Mystie does an amazing job of holding your hand and walking you through each step. She's even given great samples at the end of the book with recommendations on structure and categories you might want to use for your management system.
I'm a techie and I love simplifying things with technology. I love using my Mac and iOS devices. I love Google Calendar and I really love Evernote. (My whole life is in Evernote!) The greatest benefit of using a system like this in my opinion is having the information you need at your finger tips. Easy to search. Easy to share.
One downside of Paperless Home Organization, in my opinion, is the choice of Remember the Milk (RTM) for task management. I used RTM for several years, but I find it's mobile options less than appealing. I currently prefer to use Producteev. That said, the principles the Mystie shares for RTM can easily be adapted for your favorite task management application. In fact, all of the principes can be adapted for use with your favorite program or service. You don't necessarily have to use the exact tools that Mystie recommends to set up your system. The principles and tips still apply.
I'm excited to put some of the specific principles and tips into practice to make my Paperless Home Organization system more effective!
Ready to get your own copy? Paperless Home Organization is regularly priced at $7.99. Through January, you can get it for just $2.99!
Click here to read more about Paperless Home Organization, download a sample chapter, and buy your copy before the price goes up.
Disclosure: I was given a copy of Paperless Home Organization in exchange for an honest review. This post contains affiliate links.
Continue Reading...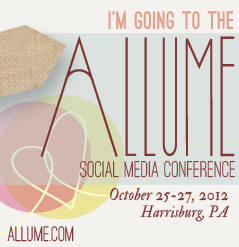 I was "this" close to going to Allume this year. But, alas, there were a few things that just didn't work out in my favor. Maybe next year I can be there in person. This year, I'll still be there…. Virtually!
Allume Keynote Streaming
The wonderful folks at Teach Them Diligently are sponsoring video recording of all of the keynote sessions at Allume! The recordings will be available for streaming from the Teach Them Diligently website within a few hours of each session. I'm so excited that I'll be able to watch those videos and learn from the speakers at Allume, even though I can't be there in person!
Keynotes include:
Jessica Heights
Sally Clarkson
Darren Rowse
Ann Voskamp
Are you going to Teach Them Diligently next May? You can pick from Spartanburg, Nashville, or Omaha. There are amazing speakers at each location. Pick the location or date that works best for you. I plan to be at Spartanburg and/or Nashville with my family. Hear Ken Ham, Voddie Baucham, Sally Clarkson, Pam Tebow, Heidi St. John, and many more!
If you pre-register for Teach Them Diligently by 11/15, the cost for the event is just $45 for your whole family. Everyone in your immediate family gets in for that low rate. There are additional add-on options for the kids and teens during the conventions too. Get registered before the price jumps!
I'm linking up with Mom's Mustard Seeds today. Hope to see you at Teach Them Diligently or watching the Allume sessions with me.
Disclosure: This post contains affiliate links.
Continue Reading...
We're using Math Mammoth Light Blue Series Grade 2 this year for math. Just as we were starting a chapter on telling time, a representative from StudyPad, Inc. contacted me to see if we'd like to review their new Tell Time app. Perfect timing! (Pun intended…)
In this screen shot, you can see that Tell Time has multiple levels. Each level is broken down into a teaching lesson and a test. Taking the test earns coins. The levels include:
The Clocks
Time to the Hour
Time to the Half Hour
Time to the Quarter Hour
Time to 5 Minutes
Time to the Minute
AM and PM
Elapsed Time
Jonathan Puts Tell Time to the Test
Jonathan jumped right in. He's gone all the way through to telling time to 5 minutes. He liked the lesson portion and would watch and play through it a few times before taking the test. He was quite excited to find that taking a test successfully earn him coins. Those coins allowed him to dress up the monkey who is the guide through the Tell Time App. To me it's silly, but to him it's all about the reward and he's had lot of fun changing the accessories on that monkey.
Want to try it out before your buy the Tell Time app? There's a limited free version.
Want to buy the app? Get Tell Time for your iPad for just $1.99
Want to win a FREE download of the full version of Tell Time? StudyPad, Inc. has given me 3 download codes to give away to my readers. Enter to win using the Rafflecopter form below:
Have you used any apps from StudyPad, Inc.? We've used several now and have loved all of them. Share in the comments!
Disclosure: I received a free download of Tell Time in exchange for an honest review. This post contains affiliate links.
Continue Reading...
I recently found the iOS app CitiBlox. Jonathan loves iOS games and I had a feeling this one was going to be a hit with him.
The creator is a mom and her kids – how cool is that! They are all working together to build and market their apps at AdAir Mobile. CitiBlox is just the first app with more coming soon.
What is CitiBlox?
Do you remember the pencil and paper games with a grid of dots and the person who closes a box wins that box? Did you play that as a kids? Well, CitiBlox is based off that same concept.
When you complete a box, you get another turn. But, watch out, the "computer" is trying to completely blocks too! When you complete a box, you discover a portion of the "city" picture behind the puzzle, but if the computer completes a block, it is grayed out. If you have the most boxes at the end, the full city picture will be revealed to you. There are three levels to chose from and as you go up in level there are more boxes.

Why Citiblox?
I love that CitiBlox reinforces problem solving skills in a fun and entertaining way. It took Jonathan (5 years old) a few rounds to get the hang of the game and within a few days, he was playing like a pro. It was quite funny to watch him comparing his score to the computer and try hard to stay ahead of the computer. It's not just for kids – I even found my husband Josh playing the game a few times!
Jonathan says that he loves that he can win in CitiBlox and that there are three levels. He did says that he wished there were more levels. Screen real estate is limited though, so I don't think that's possible! He just doesn't want to stop playing!
Get CitiBlox
CitiBlox is FREE for iOS. We played on both the iPad and iPhone, but is ad supported. The iPad is a little easier because of the larger screen, but both devices were great for playing CitiBlox. I'm sure that an iPod touch experience would be similar to the iPhone. A $.99 ad-less version is expected soon.
They are also working on a series of apps called Mind Storm, the first of which is about the presidents. Watch for that coming soon!
You can connect with AdAir Mobile through their website, Facebook, and Twitter!
Disclosure: I received this app for free in exchange for an honest review and was compensated for my time.
Continue Reading...