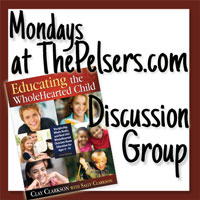 Welcome to the first week of our Educating the Wholehearted Child discussion group!
This week, we're reading the Preface and the Introduction. Feel free to stop now, go read those sections, and then come back. Or you can read my summary and thoughts before you read the book. Either way, I hope you'll participate in the discussion through the comments and/or by linking up your own blog posts. I'm planning to leave the link submissions open on each post for the duration of the study; that way, if you get behind or join us late, you can still add your links. Also, don't feel like you to have to stick to my schedule. If you've already read the whole book or plan to read it in a shorter time frame, go ahead and then jump in to discuss the book with us.
Alright? Let's get started.
Preface
This is the third edition of Educating the Wholehearted Child. Clay and Sally Clarkson have many years of homeschooling experience and their desire is for this book is to give you "greater confidence in the stewardship of your children." God has given us wonderful and individually unique gifts that we as parents are responsible for and He has given us instructions for how to raise them to be Godly men and women.
In 1 Chronicles 28:9, King David expressed his desire that Solomon "serve [God] with wholehearted devotion and a willing mind." This is the basis for the the Clarkson's definition of a wholehearted child and their "natural, home-centered way to nurture, disciple, and educate your children."
Introduction
Family, government, and the church; these are the only institutions set up by God. Homeschooling is not a crazy experiment. Education centered in the home is a "biblical lifestyle."  This is because education is not the main goal – nurture and discipleship are the goal and from that education springs forth naturally. Education should be happening in Christian homes naturally.
"Your role as a home-educating parent, then, is to provide a rich and lively living and learning environment in which your children can exercise their God-given drive to learn and then to biblically train and instruct your children within the natural context of your home and family life."
This book is not about a rigid system. It is about a biblical model and philosophy that is implemented in different ways in each family. This is why I personally wanted to host this discussion group. I want to dig in and see what the Bible says about nurturing and discipling our children. I want to see how other families are living this out everyday.
"I have no greater joy than to hear that my children are walking in the truth."  3 John 4
 Some questions for discussion:
How long have you been homeschooling?
What are you hoping to gain from reading this book?
What quote or scripture stood out to you in the preface and/or introduction?
Your turn!
If you have a blog, you can post your thoughts there and leave your link.  Grab the button code from this post.  Be sure to add a link to this post too.
Don't have a blog?  Use the comments below to join in and share your thoughts on the preface and introduction.
Teach Your Kids to Have a Devotional Time
Teaching your kids grow their own faith doesn't have to be difficult. Get this downloadable guide to help you teach your kids to have their own devotional time!