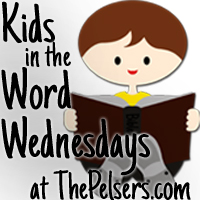 I don't have the market cornered on getting your kids in the Word. I want to hear your stories and tips! So, I'm opening up Kids in the Word Wednesdays for guest posts. I want to feature you and your kids! Rather than having the usual link up this week, I'm telling you how you share at The Pelsers.
I invite you to do one of the following:
write a full post about how you keep your kids in the Word
share a quick tip of something that works well for you and your kids.
I'll be expecting:
content about kids AND one or more of the following: Bible, character, or worldview
your best writing and an original post never before posted
at least one picture to help illustrate your story or tip
short bio (link to your blog welcome)
Interested? Jump over to the Kids in the Word proposal page to submit your post, story, or tip ideas!
Teach Your Kids to Have a Devotional Time
Teaching your kids grow their own faith doesn't have to be difficult. Get this downloadable guide to help you teach your kids to have their own devotional time!