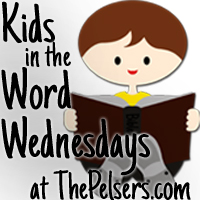 Get 20% off of Old Testament Bundles at Grapevine Studies!!! Use code "summer17" for an additional 10% off through 7/25/17!!!
Now that we've finished Truth in the Tinsel but not yet jumped back into our normal routine and schoolwork, Jonathan and I have been reading this:

We've gone back to The Beginner's Bible because Jonathan can easily read this Bible and he loves the pictures.  We've read this Bible from cover to cover more times than I can count in the past three years.  We've been jumping around, reading whatever stories Jonathan is interested in that night before bed.  I'll read a page and then Jonathan will read a page.  We talk about connections with other stories and things that we've learned about in What's in the Bible? DVDs.  Then, Jonathan usually takes it to bed and flips through it as he's settling in to go to sleep.
How did you keep your Kids in the Word this week?  Link up or leave a comment!  {Grab the Kids in the Word button from my sidebar.}