Would you like a tour of our school room?
Welcome to Our School Room!
Our house is small, but we're fortunate to have three bedrooms. The boys currently share a room which leaves the third bedroom for us to use as an office / school room. My boys don't really use their room for anything but sleeping, so I anticipate that we'll be able to continue this way for a while, even with the addition of Baby #3 in the spring.
Well, come on in. Hope you don't mind that I didn't really clean up for you… The room is well used!
This is what our room looks like as you enter from the hallway. The room gets a lot of light, which is nice, but  unfortunately that makes it the hottest room in the house during the summer.
To the left is the closet wall. We keep a US map on the door and recently added our We Choose Virtues posters. Our Ikea easel (chalkboard/whiteboard/paper holder) is usually kept in front of the closet door to keep little Jacob from getting into the closet. Peeking out from behind the door is a whiteboard. It's a sticky paper that won't ruin the paint or wall and was cut down from a larger piece. Down in the corner that you cannot see is our bean bag chair. If we do read-alouds in the school room, that's where I usually lounge and read to the boys.
Moving around the corner is the window wall. Josh added the little shelves for me in the last year. It makes it easy to keep the things we use regularly within reach. We use a modified workbox type system. The Ikea magazine file boxes hold some of Jonathan's books and folders, while the drawers hold the rest. We keep a few of our puzzles in the area.
Between the white shelf and the drawer cart is where we keep Jacob's tot school binders. He loves to go pull those off the window sill all by himself. Down to the right of the window is Jacob's little Ikea table. Jonathan is a little too big for it now, so this is really Jacob's space to play and color. The crayons usually live out on the table along with some paper.
I call this Jonathan's Corner. He has a little desk where a little netbook lives. He can turn his chair to work at the spot at the end of my desk that I made for him. Again, thank you Ikea. The colored posters above his desk go with Applied Grammar. The whiteboard is from the roll of whiteboard sticky paper. I put a border around it to try to keep stray marks off the wall.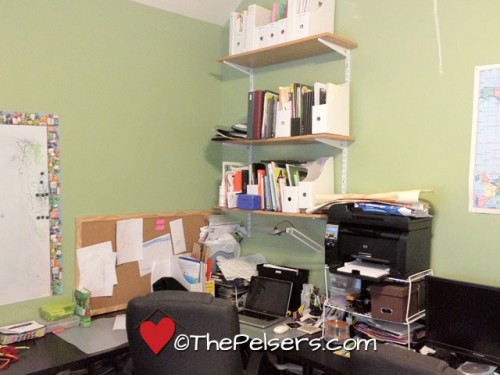 And now we come to Mommy and Daddy's side of the room. This is where I spend a lot of time between working as a VA, blogging, and school time. Jonathan does most of his math, English, writing, and some of his notebooking at the end of my desk. I can easily scoot down to work with him or turn to work at my computer. On the far right is Daddy's space. Our desks are three simple tables from Ikea. The shelving above my desk, I think, came from Lowes. I'd love to add another set of shelves at some point, but then I'm not sure where we'd put the world map that lives above Daddy's desk.
We also spend a lot of time here, on our living room on couch. The boys love to draw here, read books, and watch movies. The couch is from, you guessed it, Ikea. We were blessed with a generous Christmas bonus this past year that allowed us to replace our sad, sagging couch with this wonderful comfy "7" couch, as Jonathan calls it. Much of our read-aloud time is spent here. I can relax on the couch to read while the boys either cuddle with me or play on the floor with cars, blocks, or Legos.
Hope you enjoyed your tour of our school room. Don't forget to take a look at the curriculum that we're using for 1st grade and tot school as well as my FREE printables. Be sure to come back next week – I'm sharing a whole series on organizing your homeschooling supplies and I'll give your an even closer look at some of the areas of our school room. You can subscribe via email and get new posts and free printables sent right to your inbox!
If you have a question about our school room, please feel free to ask! Just leave a comment.
This post contains affiliate links.

Teach Your Kids to Have a Devotional Time
Teaching your kids grow their own faith doesn't have to be difficult. Get this downloadable guide to help you teach your kids to have their own devotional time!