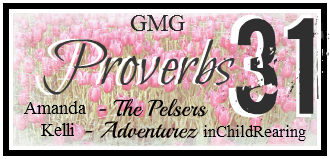 Week 10 Reflections:
Go to the Ant
The Proverbs 31 Woman makes sure that her home and family are taken care of. She doesn't sit by in idleness. What is idleness?
To pass time without working or while avoiding work.
To move lazily and without purpose.
Are you trying to avoid the hard work? Are you moving without purpose? Go to the ant. She's always preparing, always working hard.
What do you do to prevent idleness? How are you preparing for your family? Share in the comments. Make sure you go visit Kelli at Adventurez in ChildRearing too! Grab the button code from this page to share.
Also linking up at: