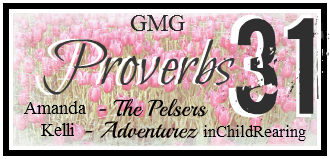 Week 11 Reflections:
Train Up a Child
The Proverbs 31 woman is blessed by her children:
Her children rise up and call her blessed
Proverbs 31:28a
If you're in the stage of the littles like me, you're probably laughing.
If you have teenagers, you might be laughing even harder.
Call me blessed? Seriously? Have you met my kids?
Ok. So, it's not likely that my toddler is going to run up to be and tell me that I'm the greatest mom in the world multiple times each day. It's not likely that my 5 year old is going to tell me thank you for putting him in time out. But over the long haul, I pray that I'm raising them to follow God so that when they are adults, they will look back and see what I've tried to do. Then I pray that they will call me blessed.
How are you training your kids? Will they one day call you blessed? Share in the comments. Make sure you go visit Kelli at Adventurez in ChildRearing too! Grab the button code from this page to share.
Also linking up at:
Don't miss anything!
Subscribe to get our latest content delivered straight to your inbox.