I was really excited a while back when I heard that Courtney Joseph from Women Living Well was writing a book. It finally released recently. I thought that Women Living Well would be a popular book for you, my readers, so I picked it up from the Thomas Nelson BookSneeze program to read and share with you.
Women Living Well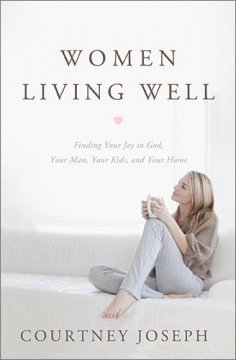 Child of God.
Wife.
Mom.
Homemaker.
We women wear a lot of hats, but are we really living well? This is the foundation of Courtney Joseph's book Women Living Well. Courtney subtitled the book "Finding Joy in God, Your Man, Your Kids, and Your Home." There are four main sections of the book that line up with the subtitle.
I have to be honest. Despite my excitement, I was afraid that Women Living Well would come across as being prideful and arrogant. Hear me – Courtney's writing oozes with humility and encouragement. She's not a know-it-all. She continually tells the reader that we need to see what the Bible says and follow Biblical principles, but the carrying out of those principles will look a little different in every home.
Favorite Quotes from Women Living Well
I love to pull out some of my favorite quotes to share with you. It gives you a feel for the author's writing style and main points.
Enoch lived out the fullness of his name: he was devoted to God. pg. 9

If Jesus needed solitude, then certainly we do too. When we forgo our own needs, including our own need for solitude, we not only shortchange ourselves, but our families as well. pg. 9

… I see that we are a distracted generation. pg. 37

Because each man is unique, that means each of our homes will be unique. pg. 56

The biblical principles we apply to our marriages should be the same, but how thesis carried out on our homes will look different. pg. 57

When we are faced with our husbands' weaknesses, much about our own maturity is revealed.

We must follow God closely or our influence will lead others astray. pg. 114

It is vital that we as mothers read the Bible to our children. pg. 115

Teaching is giving my children the information they need to succeed. Training is giving my children the discipline to carry out what they have been taught. pg. 138

Had my parents not equipped me in my younger years so that I knew God's Word well, I would not have been able to defend my faith. Their discipleship was key. pg. 152-153

Mundane tasks are hidden treasures to creating a home that is a haven. pg. 171

Because we do not rest, we miss hearing God's voice. pg. 183
And my favorite quote?
I realized that I was an information glutton. pg. 43
Yeah, that one hit hard for me. Because one of my strengths is research, I do a lot of reading both online and offline. This continual quest for knowledge can certainly cross the line into gluttony, but I'd never thought to label it as such before. Thanks Courtney for that Holy Spirit conviction moment!
Women Living Well is a great book. This would be a good choice to give as a graduation present or bridal shower gift for a young women.
Have you read Women Living Well? What did you think of it? If not, are you now interested in picking up the book? Share with me in the comments.
Material Disclosure: I received a copy of Women Living Well from Thomas Nelson in exchange for an honest review.
Teach Your Kids to Have a Devotional Time
Teaching your kids grow their own faith doesn't have to be difficult. Get this downloadable guide to help you teach your kids to have their own devotional time!