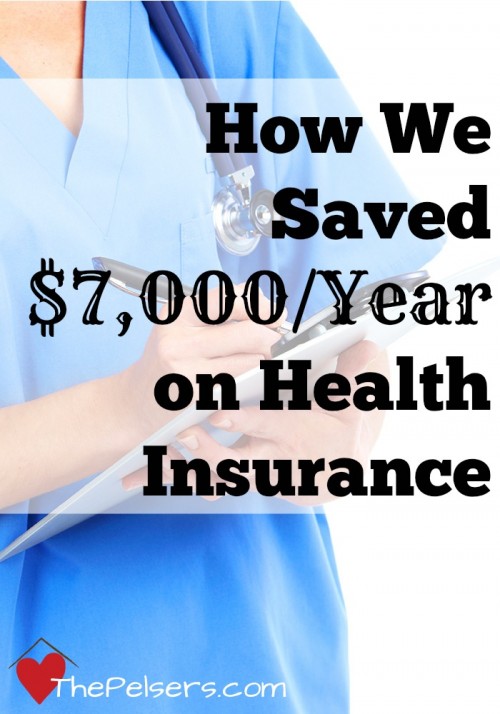 What is the biggest expense in your monthly budget?
Until recently, I would have answered health insurance. We had it good for a while… I was working at a church, we had excellent coverage for just a few hundred dollars a month. Our health insurance was one of the reasons that I fought God on leaving my job and being a stay at home mom. I knew that coverage through Josh's employer was much more expensive.
When I finally left my job in May of 2010, we had to move our coverage to Josh's employer. The plan was terrible and the premiums as well as the deductible were high. That fall, Josh got a new job. We were then paying a little less in monthly premiums, but we were now on a true high deductible plan that required a lot of out of pocket money to be paid before the insurance covered much of anything. On top of that, the premiums kept rising each year. Thankfully, the owner of the company was doing his best to help cover these increases… until Fall 2013.
When the email arrived with the information regarding the renewal of our health insurance and the increase, I cried. Allow me to paint the ugly picture for you…
We had been paying $919.17 per month. That was already more than our mortgage and the monthly premium was about to increase to $1031.53 per month. Our deductible for this wonderful plan? $4,000.  Sickening only begins to describe the situation. How can a one-income family with 3 kids budget this? There had to be another way. There had to be something better than paying over $12,000 a year for next to no benefits.
I did research on the major healthcare sharing ministries that are out there. I wasn't completely happy with any of them. Most don't cover pre-existing conditions. One requires you to send your monthly "premiums" directly to another member in need. None of them were a good fit for our family.
Enter Christian Healthcare Ministries
Christian Healthcare Ministries seemed too good to be true at first and Josh was apprehensive at first. We dug deeper, talked to a few people who have CHM, and we felt CHM was a good fit for us.
CHM offers a generous pre-existing conditions policy.
CHM receives funds from members and distributes funds directly to those with needs.
CHM offers three levels of coverage. Currently: Gold at $172/mo, Silver at $118/mo, and Bronze at $78/mo (as of 2020).
CHM is capped at three units no matter how many people there are in your family.
CHM offers an add-on coverage called Brother's Keeper to help with extremely large medical bills.
CHM is protected under the affordable care act and qualifies as having insurance – no penalty to pay!
We felt most comfortable going with the Gold level at this time in our lives. We choose the Gold level for every member of the family, though you can mix and match. Women of child-bearing age should consider the Gold level, but I'll tell you more about that in another post.
So what does our coverage look like now?
So back in 2013 when we joined: With five people in our family, we pay for three Gold units. That's $150 x 3 = $450. Yes, $450/mo. We saved almost $600 per month and almost $7000 per year on our monthly health care premiums. We did opt to add on the Brother's Keeper coverage for around of $25 per unit (or $75) per quarter. It varies every quarter based on the needs being shared. The regular monthly share increased slightly in 2020 after many, many years with no increases.
The downside of CHM is that they don't cover routine well-care or physicals. They also don't cover basic sick care. The benefits do not kick in until an "incident" incurs bills of $500 or more at the Gold level.
On the positive side, at the Gold level, we only pay at maximum of $500 out of pocket for an "incident." A child breaks an arm? The ER or Urgent care, doctor follow up, and any other appointments related to that break are all part of the one "incident" for which we are only responsible for $500 out of pocket. Negotiated discounts apply to that $500 out of pocket. That means that if the bills are discounted by $500 or more total, and in many cases they can be, then we would owe nothing out of pocket. You read that right, $0. You could compare that to a deductible – at the Gold level, we only pay a maximum of $500 per unit out of pocket for the year. If that same child breaks his leg in the same year, we owe nothing more out of pocket for him that year. Then if another child needs his tonsils out that year, we pay a maximum of $500 out of pocket for that surgery and related appointments. Another member of the family has an incident? That's another max of $500.
The bottom line? After we reach three incidents for three different family members, we've reached our maximum for the year for our three units of coverage at the Gold level. That's a lot better than the $4,000 deductible we had to pay last year when we had Josiah!
Tips for budgeting with Christian Healthcare Ministries
Here are a few tips for budgeting and setting aside savings when using CHM:
Put your maximum out-of-pocket per unit into savings too. For us this is $1500 for the year.
Set aside money in savings for well-visits, physicals, and basic illness visits like for a cold or the flu.
Consider an additional prescription discount plan if anyone in your family takes regular medication or look at generic options at Walmart or Target that run $10 per quarter.
If you and your family are relatively healthy and do not have major pre-existing conditions, Christian Healthcare Ministries might be a good fit for you too. Go over to the CHM website and read through the options, pre-existing condition limitations, and request an information packet.
If you decide that CHM is a good fit for you, would you do us a favor? Use our Bring-A-Friend link or put Josh and Amanda Pelser, #168249 as the referrer on your application. CHM gives us a free month on our membership after you've been with CHM for three months.
UPDATE: We've had a couple of "incidents" and can now share how a reimbursement works with CHM. Read more here!