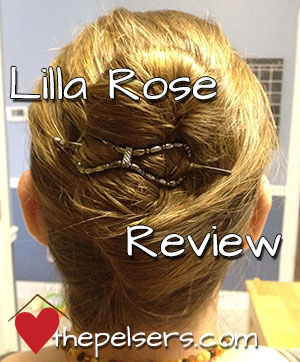 A few weeks ago, Jennifer Miller contacted me and asked me if I'd like to review a flexi-clip from Lilla Rose. I'd heard of the product, but I really didn't know anything about them. I was interested, but I had to explain to Jennifer that I'm not a "girly girl." I like plain and simple and easy. She assured me that I'd find something I liked.
I dove into Jennifer's Lilla Rose website and to find the perfect flexi-clip. The first step was to watch the size and styling video to help me figure out the best size. Jennifer made it very clear that you have to get the right size, but if by chance it arrives and is not perfect, they do offer free return shipping for an exchange or refund. Now that's service!
I have fairly long, thick hair and I like to wear it all up most of the time. I decided that a medium sounded like my best option. With my size choice in hand, I browsed through the choices and found the perfect flexi-clip for me:
Plain and simple. That's me.
My package arrived on my birthday just shortly before we headed out for my birthday dinner – how about that for timing? I was so excited. I had to try it right away.
My first reaction?
This is so easy to use.
My second reaction?
I think a hair thing just changed my life.
Seriously. I said that and emailed that to Jennifer right away.
How can a hair thing change my life? I'm used to putting my hair up in a messy bun or tails up using a plain ponytail holder.
I never get it right the first time.
My hair is always falling out.
I mess with it throughout the day, which also causes my hair to become more oily.
The Lilla Rose flexi-clip solved all those problems for me.
I can now quickly put my hair up and it usually looks great on the first try.
My hair stays in place.
I don't mess with my hair and have to constantly redo my "do."
I'm a lefty – I can put my flexi-clip in with my left hand!
This is my hair after wearing my flexi-clip all day and taking a Sunday afternoon nap on the couch. A little frizzy, but still holding tight.
I love my Lilla Rose flexi-clip. In fact, I plan to buy a small flexi-clip to use for ponytails and half up styles. Plus, when I chop off all my hair, which I do about once a year, a small should be perfect for updos and tails up styles.
So, how can you get one? Go to Jennifer's Lilla Rose  website and order one! Jennifer has also graciously offered a FREE Lilla Rose flexi-clip to one of my readers! The winner will receive a certificate that will allow them to order one flexi-clip in the size of their choice, up to a $16 value. Want to win? Use the Rafflecopter entry form below. Be sure to follow the instructions carefully for the mandatory entry.
Can't see the Rafflecopter form in your email or RSS?
{Material Disclosure: Jennifer provided me with a free flexi-clip in exchange for an honest review and hosting of a giveaway.}