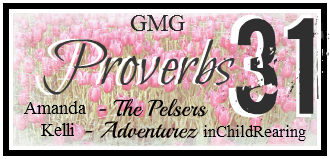 Through the summer, I'm teaming up with my friend Kelli at Adventurez in ChildRearing to bring you a series of reflections and link ups on Proverbs 31 as we study along with Good Morning Girls. Get all the details on the study in the kick-off post. Daily discussion is going on in our Proverbs 31 Facebook Group. You're invited to join us too – just request to be added to the group.
Read other posts in this series:
Week 8 Reflections:
Smile at the Future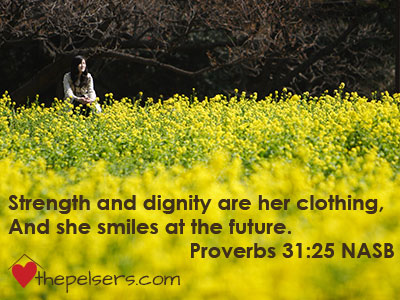 Smile at the future. The Proverbs 31 woman does.
Your future may look dark and stormy. It may look bright at beautiful. It may be really blurry and uncertain. Not matter what the future holds, you can smile. You can even laugh. Why?
The Proverbs 31 woman doesn't have to fear. She's prepared, but she has also put her trust in the right place. She knows that God is in control, no matter what the circumstances or the outcome.
Can you smile at the future? Where is your trust? Share in the comments. Make sure you go visit Kelli at Adventurez in ChildRearing too! Grab the button code from this page to share.
Also linking up at:
Teach Your Kids to Have a Devotional Time
Teaching your kids grow their own faith doesn't have to be difficult. Get this downloadable guide to help you teach your kids to have their own devotional time!