Surviving the 1st trimester of pregnancy is always on my mind when I find out I'm pregnant. I had a very rough 1st trimester with baby #3. My first two were so easy in the first stage in comparison to #3. Things were so bad at times that I couldn't even get out of bed because I was so nauseous.
So, what do you do? Suffer? Wait it out? Go immediately to medications?
My personal opinion is to try to use natural remedies before jumping to drugs whenever possible but especially when pregnant or nursing.
Here are 10 things that have helped me survive the 1st trimester yuck.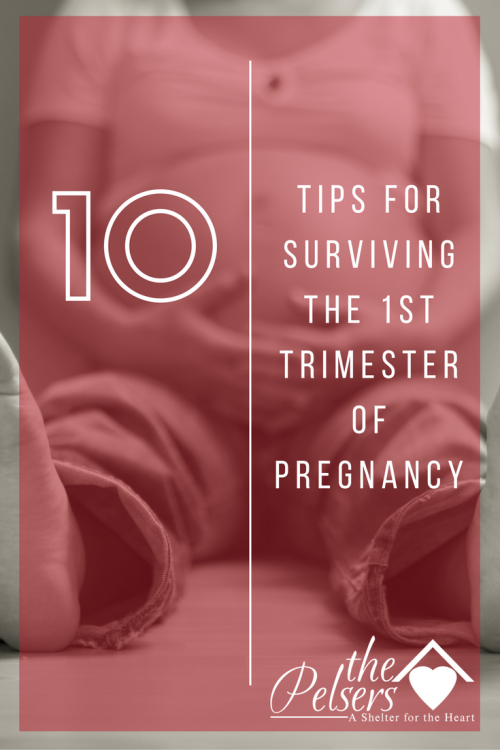 Water. Drink lots of water. It is essential to stay hydrated.
Change your vitamin. I was using a generic vitamin and it made me so sick. It is the same brand I used with my first two pregnancies, but it was terrible with #3. I switched to a vitamin from Whole Foods that included ginger, B6, and some additional digestive aids. With #4, I loved this raw prenatal from Vitamin Code.
Take your vitamin in the evening. The initial switch of the vitamin really helped, but then the nausea came back. I started taking it at night instead of in the morning and I saw a more lasting reduction of nausea.
Citrus water. I put a little lemon in a glass of water on those times when it's difficult to drink water regularly. Citrus can be an all around a physical and emotional pick me up.
Really Good Ginger Ale. It needs to be made with real ginger and a lot of it. My favorite kind is Reed's Premium Ginger Brew. It's sweetened with honey and pineapple juice and tastes wonderful. My boys even try to sneak it from me! One-third to one-half of a bottle slowly sipped is usually enough for me. This brand can be hard to find. Some of my local chain grocery stores carry it and some don't. Earth Fare and Whole Foods seem to carry it regularly.
Ginger essential oil. I wish I would have had this remedy earlier! I would keep Ginger essential oil prediluted in a little bottle or roll on. I could easily rub a little on my belly this way or smell it straight from the bottle. It's amazing how even the smell of ginger can calm my stomach.
Magnesium Oil spray. Many women are deficient in magnesium. That can cause nausea and legs cramps/tingles in pregnant women. I read this great article at Wellness Momma about magnesium. I use my homemade spray at bedtime when I get restless legs. I find relief almost instantly and am able to get to sleep.
Baby Skin essential oil blend. I love the Baby Skin essential oil blend from Rocky Mountain Oils. It's perfect for moms and little ones. It's calming. It can help with nausea. I find it helpful for heartburn when stronger oils are contraindicated. It's already pre-diluted in fractionated coconut oil and just a drop or two rubbed on my chest was soothing. Plus, it helped with my restless legs and minor sciatica. I rub it into my legs and I'm able to relax, settle, and sleep well. I used to use Young Living's version of this blend, but Josh thought that smells a little strong. I didn't mind, but Baby Skin smells better to both of us. 
Prayer and Thankfulness. I've had lots of time to just talk to God. Be thankful for the downtime and rest. Your body needs it. Remember it's for a good reason!
Talk to your doctor. When all else fails, take the drugs. Your doctor can prescribe something that will help with the nausea. You may find that you have something like Hyperemesis Gravidarum. 
Got any pregnancy tips or remedies you'd like to share?
Disclaimer: I'm not a doctor and this is not medical advice. These are things that I've personally found helpful and I hope they will help you too.