As parents, we pray for our children. We seek the Lord for His protection, His guidance, and most importantly, for their salvation. It is then our job to show our children faith. As they see us praying, they learn to pray for others.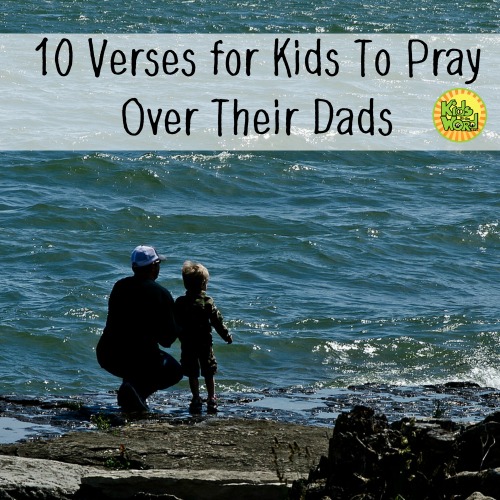 A great method for teaching our children to pray is to pray for those around them. Who better than their very own family?
Dads are the spiritual leaders in our homes. One of the best things we can do for the dads in our lives is pray for them – and this is a great opportnity to teach our kids to pray scripture.
Praying scripture is very important. Scripture is the very word of God. When we pray scripture back to God, we are praying for the very things His heart beats after.
The best gift we can give dads this Fathers Day is for them to know that they are being prayed for by their children. Below are my favorite 10 verses to have my children pray over their dad.
Proverbs 3:5-6 – "Trust in the Lord with all your heart and do not lean on your own understanding. In all your ways acknowledge him, and he will make straight your paths."
Father God, we pray that Daddy would trust you with his whole heart. We pray that he would lean on you and not his own understanding. May he acknowledge you, so that you can make his path straight.
Ephesians 6:4 – "Fathers, do not provoke your children to anger, but bring them up in the discipline and instruction of the Lord."
Lord, we pray that Daddy would turn to you when he is frustrated. Help him to bring us up the way that you would have us raised.
Proverbs 22:6 – "Train up a child in the way he should go; even when he is old he will not depart from it."
Lord, you made each one of us different. Help Daddy to train us in the way we should go – which might be different for each of us.
Joshua 1:9 – "Have I not commanded you? Be strong and courageous. Do not be frightened, and do not be dismayed, for the Lord your God is with you wherever you go."
Lord, please give Daddy strength and courage that comes from you, no matter where he goes today.
2 Timothy 3:16-17 – "All Scripture is breathed out by God and profitable for teaching, for reproof, for correction, and for training in righteousness, that the man of God may be complete, equipped for every good work."
Please help Daddy get into the word of God today. Show him truth from Your word, and help it to equip him for the good work you have for him to do.
Proverbs 10:9 – "Whoever walks in integrity walks securely, but he who makes his ways crooked will be found out."
Lord, help our Daddy walk in integrity today.
Romans 12:1-2 – "I appeal to you therefore, brothers, by the mercies of God, to present your bodies as a living sacrifice, holy and acceptable to God, which is your spiritual worship. Do not be conformed to this world, but be transformed by the renewal of your mind, that by testing you may discern what is the will of God, what is good and acceptable and perfect."
Father, help Daddy to present himself as a living sacrifice to You, that he would be holy and set apart for you. Help him to not conform to this world, but conform to the image of Christ.
Galatians 5:22-23 – "But the fruit of the Spirit is love, joy, peace, patience, kindness, goodness, faithfulness, gentleness, self-control; against such things there is no law."
Lord, please help my daddy rely on the Spirit of God, so that the fruit of the spirit will be shown in his life.
Ezekiel 22:30 – "And I sought for a man among them who should build up the wall and stand in the breach before me for the land, that I should not destroy it, but I found none."
Help Daddy to build our home and his life. Help him to be a man of honor and integrity.
1 Corinthians 15:58 – "Therefore, my beloved brothers, be steadfast, immovable, always abounding in the work of the Lord, knowing that in the Lord your labor is not in vain."
Help my dad to be firm in his faith and to work for the Lord all the days of his life.
I don't know one dad who would not be humbled and proud to have children who prayed these verses over him. May you give him the Father's Day gift that is eternal – one that will change him and the children he loves.