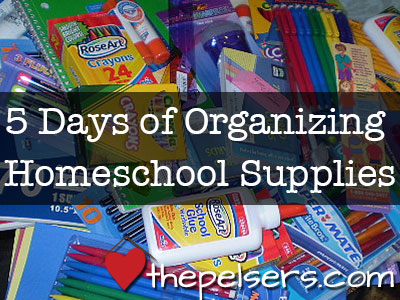 It's back to school time! Is your house being overrun by all those school supplies and books? Join me all this week for 5 Days of Organizing Homeschool Supplies.
Today let's tackle tiny things! Puzzle pieces. Lapbook supplies. Toddler games. And more!
Baggies
We use baggies for a lot of things in our school room. All of the printable toddler/preschool games – matching cards, sorting games, and sequencing things – those all go into baggies and are kept in an open bin. I pull out a few at a time to go with whatever we're studying.
With the exception of our big floor puzzles, I do not keep puzzles in boxes. They take up so much space! I cut the completed image off the box and put it with the pieces in a baggie. They are all kept in standing up in a plastic bin.
Tip: If you want your kids to be able to be self-sufficient with whatever is in the baggie, use the kind with the sliding zipper.
Page Protectors
Page protectors are great for storing paper, obviously. I made a tot school book for Jacob using a binder and page protectors. I use an additional page protector at the back of each letter grouping to keep the lacing cards and puzzles with the letter that they belong.
I also use page protectors to group together cut pieces for projects. This is especially helpful for lapbooking. I do most of the cutting for our lapbooking, so I usually do a bunch of preparation all at once. Page protectors make it easy to store the pieces for a folder together and see what's inside.
Tip: If you're using page protectors for dry erase purposes, make sure that you buy the glossy/smooth ones.
How do you use baggies and page protectors for your homeschool supplies? Share in the comments! Leave us a link and show us some pics!
Head over to Sidetracked Sarah to see all the topics and bloggers who are participating in 5 Days of Organizing and Cleaning: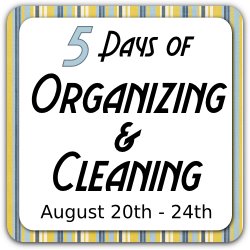 There's also a bunch of giveaways! Click over and scroll down to see all the awesome prizes!