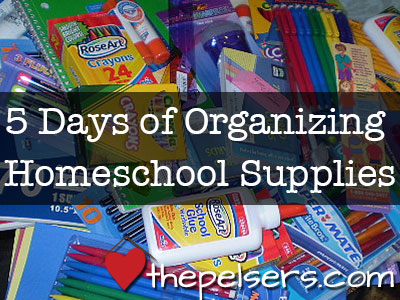 It's back to school time! Is your house being overrun by all those school supplies and books? Join me all this week for 5 Days of Organizing Homeschool Supplies.
Today let's tackle all those little supplies! Crayons. Markers. Scissors. Glue Sticks. Dry Erase Markers. And more.
Ikea Glis Boxes
I found these amazing boxes at Ikea a few years ago. I use them for so many things around our school room now. They are called Glis and are 3/$2.99. They are sturdy little fellas!
We keep all kinds of things in these little boxes. Crayons. Dry Erase Markers. Batteries. Misc office supplies. I love that they have little feet and divots so they stack well on top of each other. Another nice thing – these appear to be available to order online. If you don't have an Ikea near you, you could order them.
Pencil Boxes
Besides the obvious storage of pens and pencils and such, pencil boxes are great for lots of small supplies. At back to school time, you can find them for less than $1 each.
I got some like these above at Staples when they were on sale for just $.50 each. Like the Ikea boxes, they stack nicely because of the feet and grooves molded into the plastic. They are not as sturdy as the Ikea boxes, but you can't do much better than $.50 for a small storage box. Jacob has already accidentally stepped on and cracked one of our new ones, but that's the risk you run especially with little ones around the house.
I got tired of putting our Unifix cubes back into the tight fitting bag that they came in. These pencil boxes are the perfect size to hold all 10 sticks of 10 block cubes!
Other
There are so many other options for using and repurposing boxes in your homeschool room. My goal is to make supplies easy to put away so I tend to stay away from random sized or basic cardboard boxes. Shoe boxes, index card boxes, and other similar boxes that are sturdy, have good lids, and stack well are good options.
What kind of boxes do you use for organizing? Share in the comments! Leave us a link and show us some pics!
Head over to Sidetracked Sarah to see all the topics and bloggers who are participating in 5 Days of Organizing and Cleaning: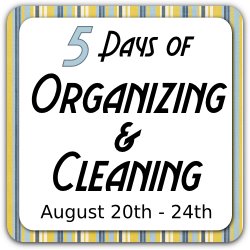 There's also a bunch of giveaways! Click over and scroll down to see all the awesome prizes!