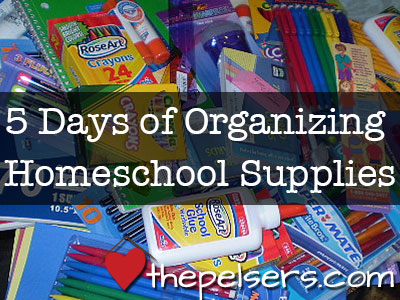 It's back to school time! Is your house being overrun by all those school supplies and books? Join me all this week for 5 Days of Organizing Homeschool Supplies.
Today let's tackle books! Big books. Small books. Readers. Textbooks. Workbooks. Coloring books. Teacher guides. Any kind books.
We usually have groups of books that should stay together whether they are sets or are used together for particular subject. We started using this method last summer. Here's our solution:
Magazine File Boxes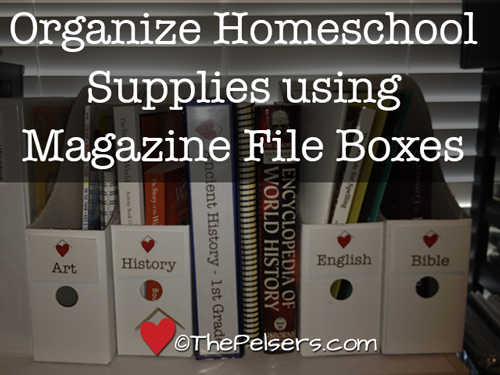 You can see in
our school room post
that I use these boxes everywhere. We get the cheap cardboard magazine file boxes from Ikea. The last time we bought a package, they were about 5 for $2. They are easy to move around whatever your shelving/storage space and easy to label.
Here's are some suggestions for organizing all those books with magazine file boxes:
Coloring books

Curriculum sets

Books by topic or subject

Pseudo-workboxes

Writing paper, card stock, or construction paper

Workbooks

Portfolio of completed work

Mom's teacher guides

And much more!
Examples from our school room:
I created my own ancient history plan for this year. We have read-alouds and readers that I need kept together. These books are placed in the boxes in the order in which we will be reading them. I used two magazine file boxes for these books and I keep them on a higher shelf away from the boys. When I look at our planning schedule, I pull down any new books we might need for the week.

Labeling ideas:
Simple sticky pad labels

Label maker labels

Laminated cards with velcro dots

You could even use markers or crayons and decorate them!

and more!
Have you used this method of organizing? Share in the comments! Leave us a link and show us some pics!
Head over to Sidetracked Sarah to see all the topics and bloggers who are participating in 5 Days of Organizing and Cleaning: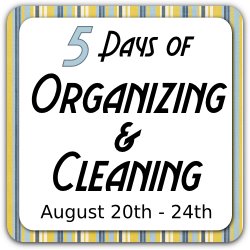 There's also a bunch of giveaways! Click over and scroll down to see all the awesome prizes!