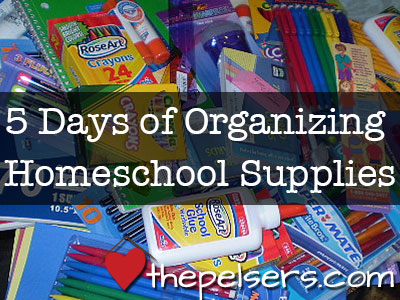 It's back to school time! Is your house being overrun by all those school supplies and books? Join me all this week for 5 Days of Organizing Homeschool Supplies.
Today let's tackle supplies overflow! What do you do with all of those extra supplies? I've seen this idea in a lot of place, but here's how we use it in our school room.
Over the Door Shoe Pockets

I bought mine for around $20 at Bed, Bath, & Beyond but you can find over the door shoe pockets at a lot of stores. I purposely went for one that is made of canvas and stitched well. I knew I'd be storing a lot in it and wanted it to last.
I keep our over the door shoe pockets on the inside of our closet door. I keep extra crayons, glue sticks, and other craft supplies that we do not get into as often but still want easily accessible. I keep it on the inside of the door because little Jacob likes to get into things. If you want it more easily accessible, you could put it on the back of the door to your school room or the front of a closet door.
Have you used these over the door shoe pockets? Share in the comments! Leave us a link and show us some pics!
Head over to Sidetracked Sarah to see all the topics and bloggers who are participating in 5 Days of Organizing and Cleaning: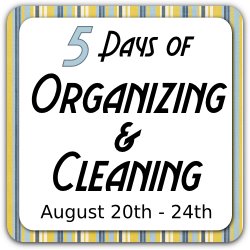 There's also a bunch of giveaways! Click over and scroll down to see all the awesome prizes!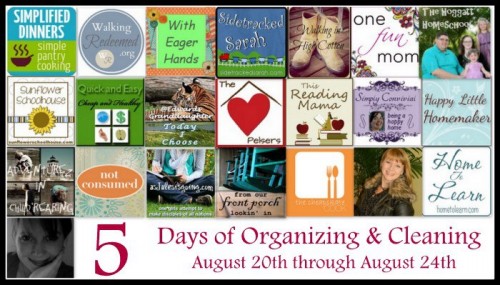 Teach Your Kids to Have a Devotional Time
Teaching your kids grow their own faith doesn't have to be difficult. Get this downloadable guide to help you teach your kids to have their own devotional time!