My latest box from Young Living arrived this week – with a little bit of Joy! Yes, Joy was in my box. Well, a bottle with a blend of essential oils called Joy was in my box. Neither Young Living or the FedEx man can bring true joy to my doorstep. That kind of joy only comes from God.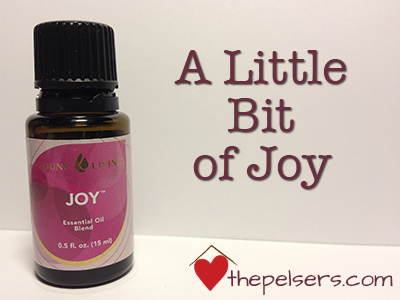 Joy
is a wonderful blend of oils designed to lift your mood. It contains:
bergamot
ylang ylang
geranium
rosewood
lemon
mandarin
jasmine
Roman chamomile
palmarosa
rose
If you deal with depression, Joy is a must have oil for your arsenal. I'm already loving it after using it for just a few days. I've been using it over my heart/on my chest as well as on my neck like a perfume. After applying, I breathe in the scent of the remaining oil on my hands. It's so refreshing! Joy can be used in a diffuser too.
The Spirit of the Lord God is upon me,
because the Lord has anointed me
to bring good news to the poor;
he has sent me to bind up the brokenhearted,
to proclaim liberty to the captives,
and the opening of the prison to those who are bound;
to proclaim the year of the Lord's favor,
and the day of vengeance of our God;
to comfort all who mourn;
to grant to those who mourn in Zion–
to give them a beautiful headdress instead of ashes,
the oil of gladness (or joy) instead of mourning,
the garment of praise instead of a faint spirit;
that they may be called oaks of righteousness,
the planting of the Lord, that he may be glorified.
They shall build up the ancient ruins;
they shall raise up the former devastations;
they shall repair the ruined cities,
the devastations of many generations.
Depression is such a dark place and that's not where God wants me to live. He wants me to live in joy instead of mourning and he wants to see me live in praise instead of weariness as Isaiah 61 tells us. I love how Joy oil helps lift my mood and helps me focus. I wish I hadn't waited so long to get a bottle of Joy oil. It will definitely be a part of my hospital bag when I go to have Baby #3 in a few weeks. Joy will be a big help with with all those post-delivery hormone crashes!
Want to try Joy? You can get it through my Young Living Oil site.
Linking up with Jodi:

Disclaimer: I'm not a doctor and I don't claim to be one. This is not medical advice. I only recommend Young Living Essential Oils because they are therapeutic grade essential oils.