"Three boys? Oh, I could never do that!"
"Are you going to keep trying for your girl?"
Seriously? These are just a couple of the crazy things that have been said to me in response to having three boys. Let me be frank here:
I'm not a girly girl.
I'm not a tomboy.
At the same time, I had a feeling before my first boy was born, that God was going to give me a house full of boys. Now, I wouldn't know what to do with a girl! But at the same time, I'm not completely sure what to do with all these boys either…
That's where prayer comes in. I couldn't lead these boys without God. Have you ever wondered how to begin praying for boys in your family?
A few years ago, I read Brooke McGlothlin's Warrior Prayers. It helped put my heart in the right place to raise this bunch of boys. Now, Brooke has updated, significantly expanded, and traditionally published the book as Praying for Boys. She sent me a copy of the book so I could share my thoughts with you.
First here's a little bit of Brooke's heart behind Praying for Boys…
Q&A with Brooke
What led you to write your book Praying For Boys?
My husband and I have two boys who were born just 23 months apart. I probably don't need to say much more than that, do I?? That's enough to keep any mama on her knees! Actually, I've done a lot of hard things that I'm very proud of in my life, but raising my boys ranks up there as THE hardest thing I've ever done. In the book, I talk about how I asked God to give me boys, and that's true, but the reality of the day to day mothering of what I like to refer to as "those boys," (you know, the ones who are 250% boy?) often leaves me completely worn out. I realized early on in our parenting journey that I had no power to change their hearts. And while everything in me wanted to be able to snap my fingers and produce good, godly men, the Bible just doesn't give us that parenting formula. So in an effort to just do something, I started praying verses from the Bible for my sons…verses based on things I wanted to see the Lord develop in their hearts. It was my way of crying out to God to change them, but it ended up changing me, too. After a year or so of doing that, and of constantly hearing from moms on the MOB Society, my blog for mothers of boys, who wanted to raise godly men, but felt like they were losing the battle, I decided to create a resource that helped them learn how to pray for their sons. It seemed a simple answer to me at the time, but the longer I encourage moms to pray the more convinced I become that prayer is the most overlooked part of raising godly men.
Praying for boys not only changes them, it changes moms too. How has it changed you?
Do you remember from grade school math that any time you change one part of an equation, it changes the answer? So for example, if you're adding 2 + 3 and get 5, and then read the word problem again and realize you should've been adding 3 + 3, you can't expect the answer to still be 5. Something changed. And when even just one thing changes, it affects everything else…changes everything else, even if just a little. Praying keeps me in the right place with God. Keeping my mind focused on the fact that He is God and I am not helps me put all of life in perspective, and it changes the way I live my days. Ultimately, spending time talking to God brings me closer to Him, and helps me know Him better. There's no better way to be a better mom than to get to know God better, and listen to Him as He directs our paths. As we change, our families will change too.
What do you most hope the readers of Praying For Boys gain from experiencing the book?
I wrote Praying for Boys because I truly believe we can change the world if we pray for our sons. My greatest hope for moms who read it is to inspire them to trust God with their boys, get into His Word and find out what it has to say about raising boys, and inspire a generation of moms to get on their knees, partnering with God for the hearts of their sons.
My Thoughts on Praying for Boys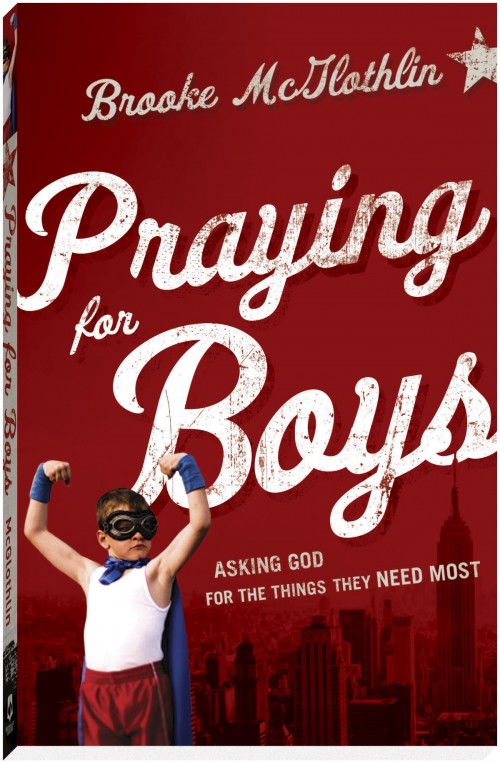 If you've never considered yourself a "pray-er", don't fear. Brooke explains for you why our boys need our prayers and how to start praying for them. She then guides you through 21 different areas in which our boys need our prayers. These include:
Heart Change
Obedience
Purity
Fruits of the Spirit
Salvation
and more!
Praying for Boys will have a permanent spot on the table with my Bible. This will be a book that I will continually go back to over and over again. Brooke's stories are encouraging and inspiring, but the equipping that she provides in 21 things they need most section is priceless. Scriptures for each of these areas are carefully laid out so you can pick up the book, open to the topic, and start praying for your boys.
Every mom and dad of a boy needs a copy of Praying for Boys. You can get Praying for Boys on Amazon or your favorite bookstore.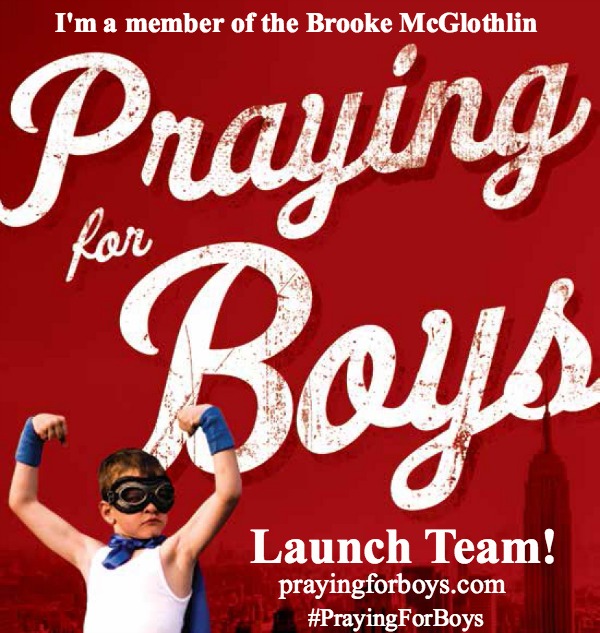 Material Disclosure: I received a copy of this book in exchange for an honest review. This post contains affiliate links.