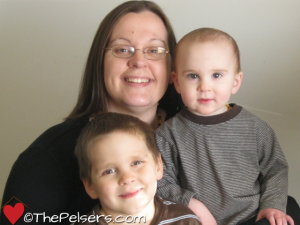 Me and My Boys. Taken Spring 2012. 
A huge welcome to those coming over from the boy mom blog hop at The M.O.B. Society! I'm a mom of two boys and I'm glad you're here to visit. For my regular readers, keep going, you might learn something new about me!
My blog, ThePelsers.com, is a shelter for the heart which corresponds with our school name, Havenhart Academy. I open my home to you as an encouraging and inspiring shelter for your heart through stories of faith, motherhood, and homeschooling. You'll find some technology helps, book clubs, gluten-free helps and much more too. Oh, don't forget about cute boy pics!
I've been married to my high school sweetheart for just over nine years. Josh and I have two boys. Jonathan is 5 and entering 1st grade. Jacob is 20 months and entering… well, creating chaos and destruction in his wake. We are starting our third year of homeschooling.
I'm a former church communications director turned work-at-(home)schooling mom. I have a BA in Bible and a MA in Old Testament Studies. I traded that all in to be home with my boys. I run my own virtual assistant and WordPress maintenance business out of our office/schoolroom. I'm also now an independent distributor for Young Living Oil. Contact me if I can serve you in those areas!
I've also written an ebook titled Finding Joy in Depression. It's my story of facing and living with depression. Special for the boy mom blog hop, I'm offerring you $2 off! Use the code BOYMOM to get the discount. Expires at 11:59:59pm on Friday, July 20.
Take a look around and join the conversation. Don't miss out on the book club that just started using Zan Tyler's 7 Tools for Cultivating Your Child's Potential. It's not too late to join in.
If you like what you see here at The Pelsers, make sure you subscribe to get posts delivered right to your inbox. It's FREE and the are subscriber only freebies from time to time too.