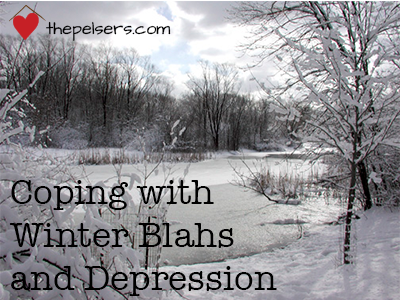 I'm tired. My hips and back ache. Baby #3 is wiggly.
I've been working hard on projects for clients. I've been working on some InDesign tutorials.
I'm waiting for some things in our lives to come to an end, but they keep dragging on far beyond their expected expiration date.
There are two little monkeys living in my house. Dishes are piled sky high. The mountain of laundry is almost as high.
I've been at a loss for words lately. The winter blahs and some double depression days have settled in over me this week. Simple showers seem to even be a lost luxury most days.
So, I've just been quiet and I've waited. I've learned how to recognize my double depression days and keep myself from slipping too low. I know the things I can do to try to climb out. But, I also know that it can take time to climb out again. So, I've learned to be patient. One step at a time. One day at a time.
I wait on God because I know this is a season. It may be a few days or weeks or maybe longer, but it's just a season. God hasn't left me. He's right beside me. He's walking through the darkness with me. Every. Step. Of. The. Way.
I have to focus on…
Staying in the Word.
Reading good books.
Making sure that I'm taking care of my basic needs like showering.
Enjoying simple pleasures like a Starbucks Caramel Brûlée latte or a hot cup of tea.
Taking megadoses of Vitamin D for the winter.
Making sure the blinds are opened to let the little bit of sunshine into the house.
Diffusing essential oils like Christmas Spirit and Frankincense.
Pushing through on the must be done things around the house while not feeling bad about the piles that remain.
Cuddling and reading with those crazy monkeys that live in my house.
Can you relate? Do you deal with winter blahs or depression or double depression?
Finding Joy in Depression is available in PDF, Kindle and Nook.