Our kids live in a hard time. It is a time when everyone wants to be different – and yet, when we are different, for the right reasons, we are picked on. It isn't easy for our kids to be Christians. That isn't a bad thing – it shouldn't be "easy." However, it isn't widely accepted anymore either. How can we help our kids walk out their faith – or even start one – when the world makes it so hard?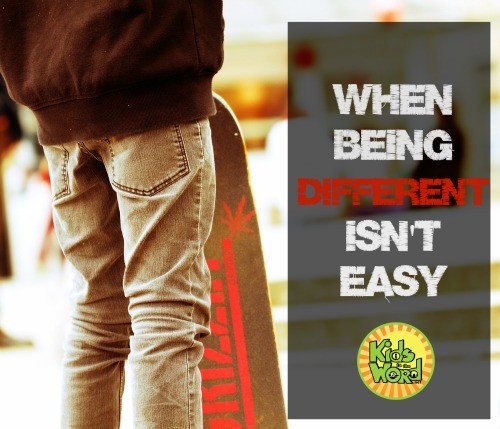 It is hard to be different as an adult in today's world. It is hard to be a Christian no matter who you are. However, Jesus told us it would be hard. It is a lot easier for me to know my life will be hard because of my faith – it is harder when I think about that same life for my children. As parents, I think we all want it to be "easier" on our kids. However, we also know that the world is probably not going to become more receptive to Christians and our beliefs. In fact, it might get worse.
So, we need to prepare our kids for what it might be like to be different.

Children Who Know the Lord
If your children have already made a decision for Christ, then you are in the process of training them to walk with Christ. Topics like modesty, sex before marriage, music, movies, social media and the Internet – these are topics that are going to make them different from their friends. We look at those topics through the eyes of scripture. The world looks at those topics through the eyes of pleasure.
For all that is in the world–the desires of the flesh and the desires of the eyes and pride of life–is not from the Father but is from the world. 1 John 2:16
The world looks at those topics as liberties, and in some regard they are. However, as we are raising children to walk after God, we need to teach them to view these things through biblical eyes. We need to teach them to look at these things through the eyes of eternity.
Our girls are going to see other girls (even in the church) who show too much skin. Our boys are going to be told they are pigs because they lust after a girl who is immodest. Yet, the Bible reminds us that we should be focusing on our inward appearance. That we should be modest in conversations. That even means in our lifestyle.
Our teenagers are pushed to test the lines of intimacy, even though the Bible says that intimacy should only be shared in marriage. They will be encouraged to just dabble in the pleasure and that there are no consequences. They are told that babies are not humans and that if you get pregnant, there is an out (and you can't get pregnant the first time anyway). That contraception is 100%. They are fed lies as though they are candy.
The same can be true of anything. We don't want our kids to listen to music about sex and filled with cussing, because what we put in our brains comes out. So they get laughed at.
They can't watch certain movies for the same reasons. And more laughter happens.
Our kids are different because we raise them that way. At first, they might agree that we are protecting them. They might hear the words that we know better.
But the laughter and pointing out the differences might eat at them too.
So, how do we encourage our kids who are believers to keep walking differently?
Live it Out: As parents, we need to not compromise. We need to watch the music and television we put before our ears and eyes. I was convicted one night as I watched television after my kids were in bed. The youngest needed to come down, and we kept hitting the pause button. Why am I watching shows she can't come in the room on? Why is that okay? If it isn't okay for her, it probably isn't okay for me.
Guard Their Minds with the Word: One of the best things we can do for our kids is to help them memorize scripture so that they will have the tools to combat sin.
Keep the Lines of Communication Open: Be sure to talk about these tough topics with your kids. They need to know it is okay to talk to you – that you are not going to freak out if they tell you that they want to watch a movie that is bad or that friends are cussing or drinking. They need to know they can talk to you about sex. Be open with your kids so that they know you are a safe place.
Pray Protection Over Them: The best thing you can do is pray protection over your kids.
Children Who Are Lost
This is harder. If your child hasn't come to know the Lord yet, it is hard to help them guard their hearts because they don't see the reason they need to. They don't have the Holy Spirit helping them want to be different. They just want to fit in. How can you help these children?
Pray: The power of a praying parent works wonders. Pray for their protection. Pray for them to come to know Christ.
Live it out: Not just being different, but live out salvation before their eyes. Teach them grace by showing grace.
Keep the Lines of Communication Open: It is so important to keep the lines of communication open. Make sure they know you are going to listen, and use these moments to speak truth into their lives.
It is hard for our kids to be different and it is hard for us as parents to know that they might be left out. However, remember their reward – and ours – is in heaven and we need to live for our eternal home!
Teach Your Kids to Have a Devotional Time
Teaching your kids grow their own faith doesn't have to be difficult. Get this downloadable guide to help you teach your kids to have their own devotional time!