Over the years, my boys have read one children's Bible over and over and over and over again. Our copy of this particular children's Bible has been so well-loved that it is literally falling apart. It's been patched with packaging tape to help it hold together for as long as possible. It is by far our favorite children's Bible. I've been so happy with this children's Bible that I've never purchased another children's Bible for the toddler age.
I've talked about how to choose a children's Bible. A friend did two round-ups of her favorite children's Bibles for me a few years ago – and my favorite one made her list too. (See Children's Bible Round-up Part 1 and Children's Bible Round-up Part 2).
Just as I thought we were going to need to buy a new copy of my favorite children's Bible, I received an email from my contact at FlyBy promotions asking if I'd like to share about the updated version of a children's Bible. Which one? My favorite one!
My boys were so excited to see the bright and shiny new copy of their old favorite appear on our doorstep!
The Beginner's Bible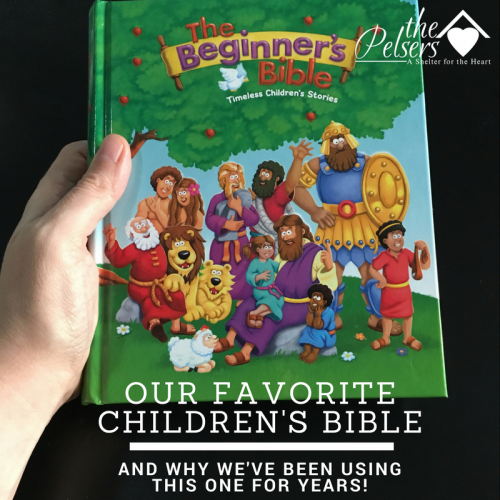 Our favorite children's Bible is The Beginner's Bible published by Zondervan. Our original copy has been well-loved by 3 little boys as a read-aloud and an early reader. Boy #4 is now sitting in the lap of Mom and Dad listening to the stories too!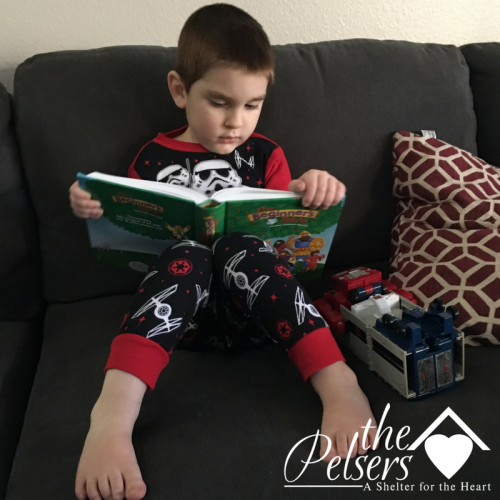 Zondervan has updated this beloved classic, which was originally released in 1989. The illustrations have been given a facelift while retaining the original designs. The full-color illustrations on every page now have a three-dimensional look and shading to them. Read more about updated graphics here.
The other main change is in the paper. The updated edition has thick glossy magazine-like paper.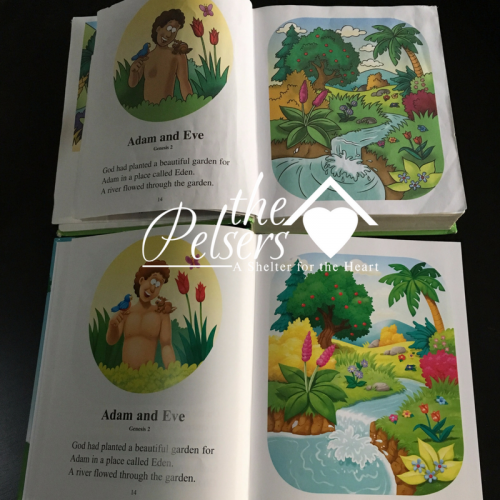 With over 90 stories, The Beginner's Bible has a great selection of stories from the Bible. I love that the stories are simply told and written in a way that I feel does not add a lot of theological interpretation to the original text. The print is larger making is easy for a parent to read-aloud and for an early elementary aged child to read for themselves. The Beginner's Bible is flipped through by my toddlers and preschoolers and reading practice for my boys when they reach around a 1st grade level of reading fluency.
Win a Copy!
Would you like a copy of updated version of The Beginner's Bible for your kids? Enter using the form below!
Material Disclosure: I received a copy of this book in exchange for an honest review.
"Disclosure (in accordance with the FTC's 16 CFR, Part 255: "Guides Concerning the
Use of Endorsements and Testimonials in Advertising"): Many thanks to Propeller Consulting, LLC for providing this prize for the giveaway. Choice of winners and opinions are 100% my own and NOT influenced by monetary compensation. I did receive a sample of the product in exchange for this review and post. Only one entrant per mailing address, per giveaway.  If you have won a prize from our sponsor Propeller / FlyBy Promotions in the last 30 days, you are not eligible to win.  Or if you have won the same prize on another blog, you are not eligible to win it again. Winner is subject to eligibility verification."