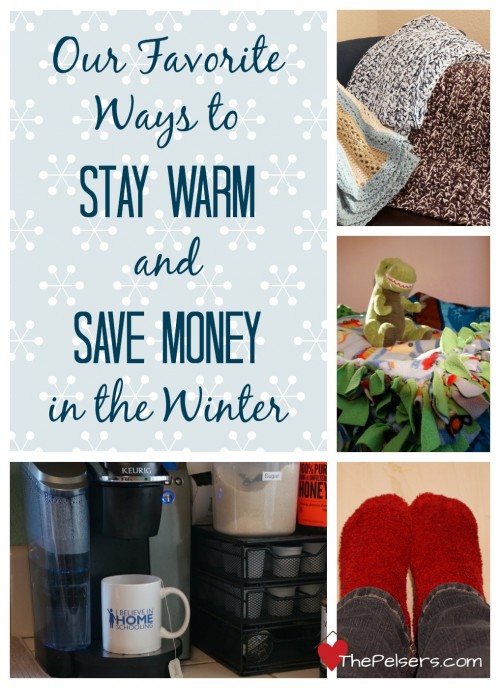 Making our budget balance is hard work. We moved from North Carolina back to California recently and that choice required some sacrifices. In order to make ends meet, we have to find ways to cut back on even the most basic of our expenses, including heating and cooling.
It's fair to say that even here in Northern California, we have it pretty easy during the winter. Nothing like the cold we experienced in North Carolina! Still, keeping the heat down is an easy way to save money – money I'd rather have in my pocket to spend on other things!
Keeping the the thermostat down is the easy part. We set ours to 62F most days and bump it up a little at a time to as needed. We homeschool. I work from home. How do you keep three little boys and yourself warm and comfortable when you're home most of the day, every day? Here are some of our favorite cost-effective ways to stay warm when the temps start to dip.
Blankets and Warm Clothes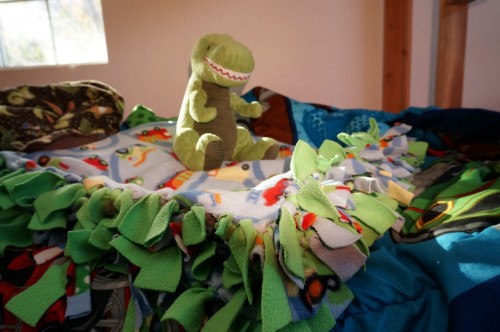 Winter is for snuggling under warm blankets. We take this seriously in our house. Each of the boys has multiple blankets on their beds, which makes it easy to pull one off to wrap up on the couch or at the school table. We keep a few extra blankets in the living room. Don't limit yourself to store bought blankets. You can make easy tied fleece blankets with your kids. Heavy multi-strand afghans are also a quick project for beginning crocheters.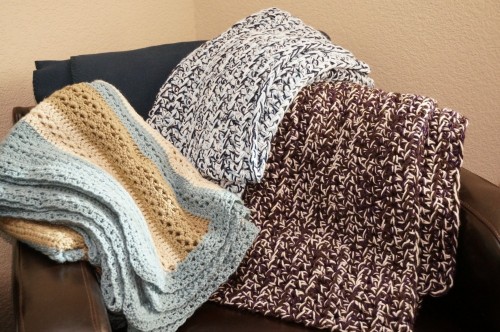 We are your stereotypical homeschoolers – we wear our PJs far into most days. In the winter this is great because PJs are warm and comfy! If we don't have any place to go, my boys would much rather stay in their footy PJs or in their fleece tops and bottoms. Bathrobes are fair game all day too. Most days, you'll find me fully dressed, but wearing my bathrobe. I think of it as my wearable blanket.
And no winter outfit at home is complete without comfy socks. Comfy socks are even more important to us now that we live in a house with mostly tile and hard wood flooring. My boys are usually happy with every day socks, but I prefer to wear heavier, soft, fuzzy socks. Slippers are great too, but give me my comfy socks!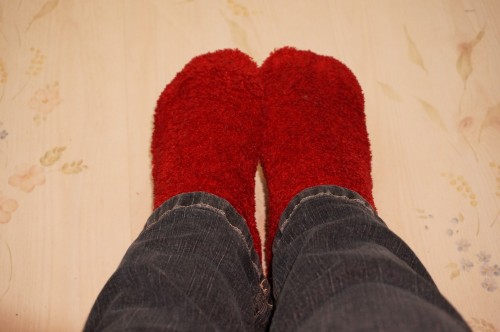 Hot Meals, Snacks, & Drinks
We often take the time to prepare hot meals. Warm, full bellies makes for better learning! For breakfast, this might be oatmeal, toast, eggs, or pancakes. Lunches at our house don't vary much, but are usually hot: quesadillas or chicken nuggets.
If we need something warm to get us through the afternoon, popcorn is usually the snack of choice. It take 5 minutes for me to make big bowl of fresh healthy popcorn straight from the kernels in a pot on the stove. It only takes 3 ingredients: oil, popcorn kernels, and salt. I get plain popcorn kernels from the bulk bins at our local grocery store for under $1 per pound. Popping them in coconut oil makes for a hot, healthy, and filling treat for my boys.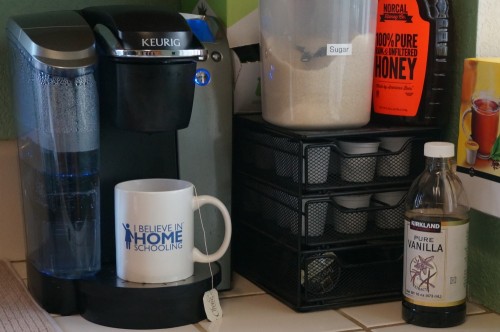 No cold day would be complete without a hot drink. We usually drink tea or hot chocolate. Jonathan and Jacob enjoy having a hot cup of English Breakfast tea with a tiny bit of sugar or honey, a dash of real vanilla, and a splash of milk with their breakfasts. In the afternoons, hot chocolate is usually their drink of choice. We have a single serve coffee pot, which makes it easy and quick for the boys to brew a cup of tea or run hot water for hot cocoa mix. And me? I'll take a cup of oolong or English Breakfast tea with a bit of vanilla and half and half.
More Tips from PG&E
Keeping your heating costs down not only puts more money in your pocket, but reduces the strain the on grid and lowers the use of natural resources. PG&E has more warm weather, cold weather, and general money saving conservation tips on their website. Be sure to check out their money saving tool when planning your next home improvement project as well as the rebate catalog if you're planning to buy a new appliance.
Instagram Contest!
PG&E is running a photo contest on Instagram this week. It runs from November 17-23. Go follow PG&E on Instagram and participate in the #PGEhome photo challenge. You could win one of seven $100 Home Depot gift cards!
How do you stay warm during the cold months without turning up the heat? Share your best tips in the comments!
I was selected for this opportunity as a member of Clever Girls and the content and opinions expressed here are all my own.