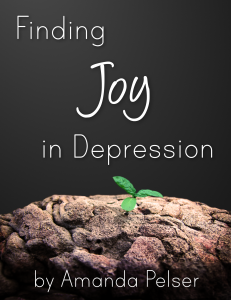 It's February and my 3 in 30 goals for this month all revolve around my soon to be released ebook Finding Joy in Depression.  There's a lot that goes into releasing an ebook.  The manuscript itself is done, but there's so much more to do before the launch on March 12.
Complete the ebook layout and formats – I'm working on a PDF format as well as Kindle, Nook, and iBooks.
Complete the website and social media channels – The barebones website is up and my Twitter account as been created.  Need to create my Facebook page and "prettify" everything.
Schedule reviews and giveaways – My goal is to have 25 reviews and giveaways during the launch week.
Want to help me with my last goal?  Sign up for the mailing list at the Finding Joy in Depression site and be sure to check the box that you're interested in reviewing the book.