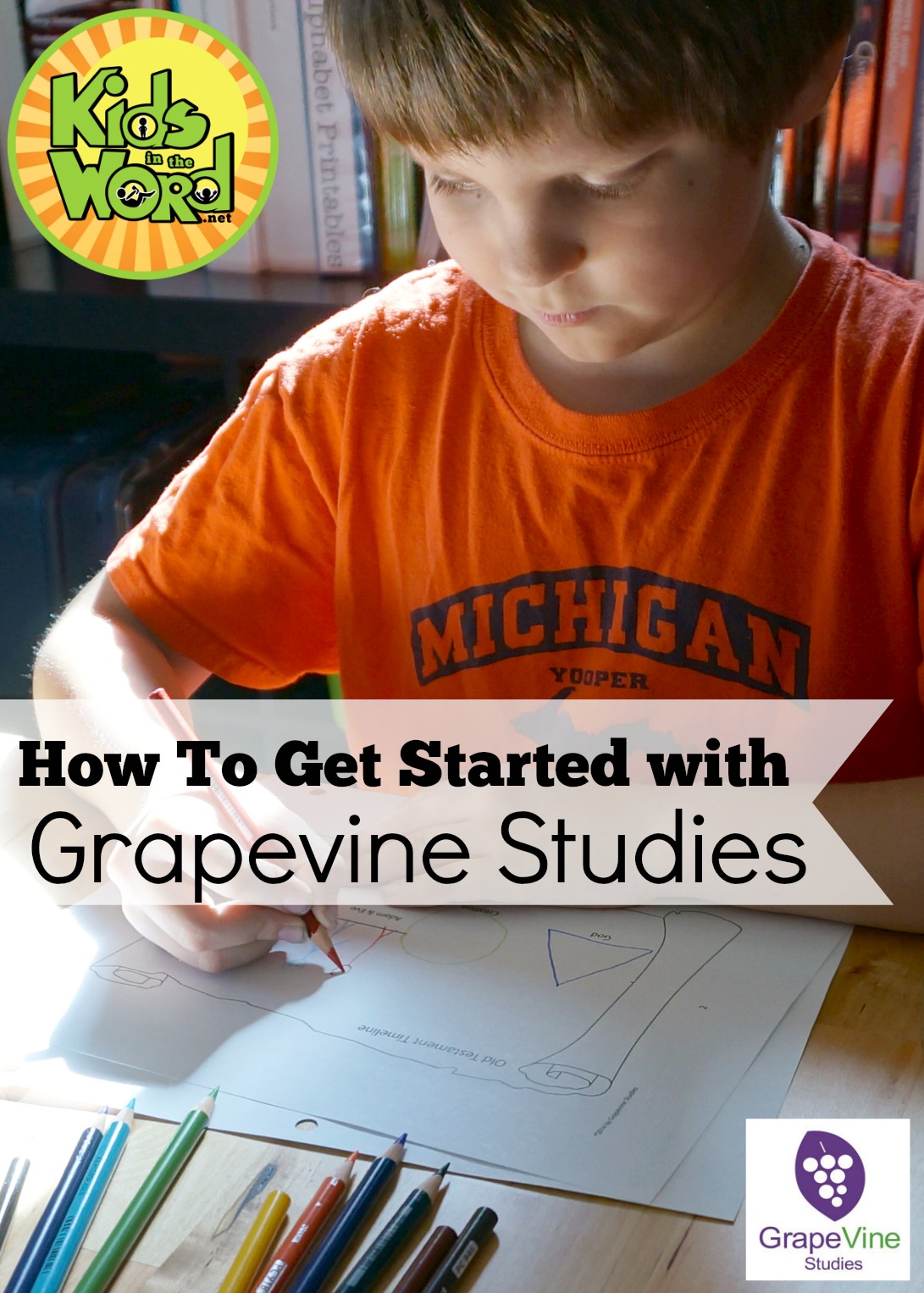 One of our favorite ways to study the Bible has been with Grapevine Studies. Pictures help cement the Bible stories in your brain, especially when you draw the pictures yourself.
Grapevine Studies' unique method is all about drawing stick figures. I'm not an artist, but I can draw stick figures. So can you. So can your kids. Even your preschoolers can trace stick figures!
Many parents have expressed to us at Kids in the Word that they have two problems:
I don't know where to start teaching the Bible to my kids.
I don't know how to teach the Bible to multiple age ranges of my kids at the same time.
How to Start Teaching Grapevine Studies
Grapevine Studies is one of the absolute easiest resources for parents to teach the Bible to their kids. They have this great flow chart to help you get started: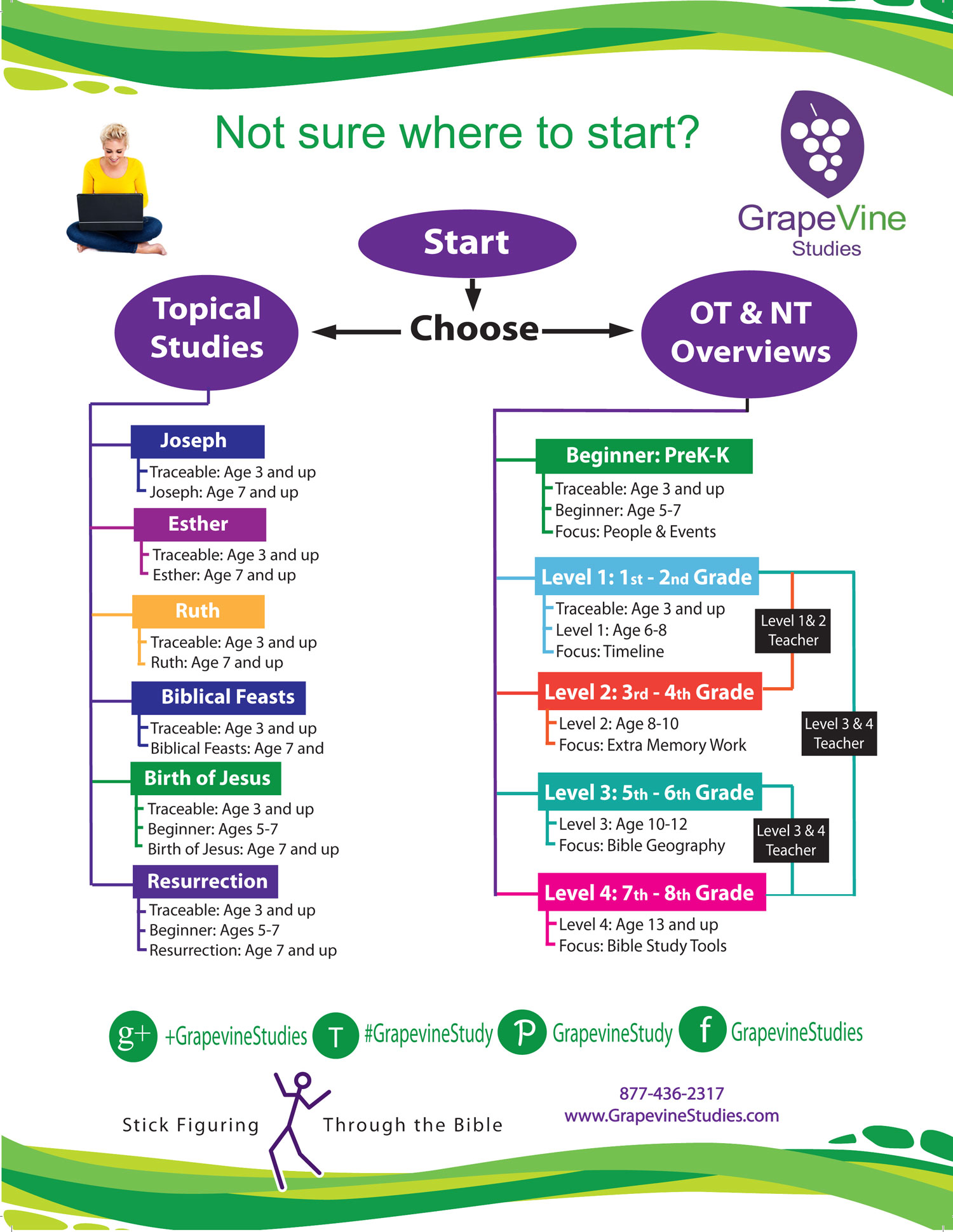 View this image larger by clicking here.
As the parent, you can choose to go one of two routes: a topical study or a longer trip through an entire testament of the Bible. If you want a topical study, you pick a topic or person and then move on to the age group. If you want to study a full testament, choose the Old or New and then move on to the age group.
How to Use Grapevine Studies with Multiple Ages
After deciding which study you want to do with your kids, you need two things:
The Teacher's Guide
The Student Workbook
The topical studies come in the following levels:
Traceable
Some have an in-between called Beginner
Student
The teacher's guide is the same for each level. If you have kids at multiple levels, you'll want a teacher's guide plus the appropriate student workbooks for each age group you'll be teaching.
Want to do a survey of the Old or New Testament? You'll still need a teacher's guide and student workbook(s), which come in the follow levels:
Beginner
Level 1
Level 2
Level 3
Level 4
After choosing the student workbooks you'll need, add on the teacher's guide that corresponds to the highest level student workbook you'll be using with your kids. That's not as confusing as it might sound… let me break it down.
I'm going through the Old Testament Survey with my boys. Here's what I'm using:
My three year old is using the Level 1 Traceable.
My 3rd grader (7 years old) is using the Level 2 student book.
Because I have one child in Level 1 and one in Level 2, I'm teaching using the Level 1-2 Teacher's Guide.
If I had a Level 3 or 4 student as well, I could teach all levels using the Level 3-4 Teacher's Guide.
Formats: Print or eBook?
Grapevine Studies sells their resources as both print and downloadable ebooks. If you choose the ebooks, they are printable PDFs that you can use over and over again in your immediate family. If you're teaching multiple age groups, this will save you a ton of money over time.
Give Grapevine Studies a Try
Grapevine Studies are stunningly simple. Read and draw stick figures. That's the basis of every lesson. You can add in the review questions, memory work, maps, and additional study depending on the level of your kids. You as the parent don't need to worry about not having the answers. The answers are all in the teacher's guide!
Try a FREE lesson from Grapevine Studies: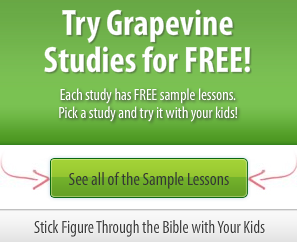 Ready to pick a study for your kids? 

I'd love to hear what you think of Grapevine Studies. Would you share your experiences and what your kids think in the comments on this post?