One of my boys came out of Sunday School sobbing. He didn't get to choose a prize from the treasure chest on his way out the door. You see, the treasure chest is reserved for kids who listen, pay attention, and obey. This child of mine had not done any of those things on this particular Sunday morning. He did not get to chose a prize and he let everyone in the building know about his displeasure through his loud wailing and the large tears streaming down his face.
I told another of the boys to come put the silverware away. He didn't come. I told him again. He still didn't come. When he did finally come to do the job, he had an attitude. He wanted to be the one to unload the dishes from the dishwasher, but he's too small for that job. He burst into tears over a simple job that he thought was beneath him to do.
One of my boys has been assigned the task of sweeping the floor around the kitchen table after meals. This is an important job because we have a baby crawling around the house. I asked him if he'd vacuumed. He rolled his eyes and let his shoulder slump as he stomped back to do the job. When I went to inspect his work, I found food on the floor. Instead of choosing to do the job well with the right tools the first time around, he skimped and tried to clean up a large mess with the hand vac. He didn't like that I required him to go back and do the job properly.
It's never ending. Toys all over the playroom. Dirty clothes all over the floor. Frustration over chores. Minds and bodies wandering when they should be doing school work. Yelling. Disobedience. Oh the list goes on and on. And those are the problems of just one day!
The constant chaos, bad attitudes, and disobedience make me feel like I need a do over. I want to go back to the beginning of time and start over. Ok, maybe not the very, very beginning because I'd rather not experience labor and delivery all over again with these 8 to 9 pound baby boys!
Sometimes, I feel like a need a total family makeover.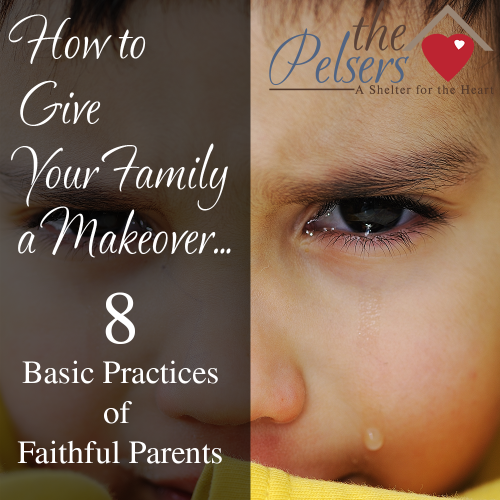 Can I get a Do Over? A Makeover? Something?
Wouldn't it be nice if changing my kids and changing our family atmosphere were as easy as slapping a new color of paint on the wall in the living room or choosing a new shade of eye shadow? But that would just be masking the problem. This is a deeper discipleship issue. It's a heart issue: the hearts of my boys and my heart as their mom.
Do you find yourself feeling this way?
When your child makes a bad decision, it's because you were a bad mom, right?
If your child chooses the right way, then you're the great mom, right?
Think about this:
It's easy to fall into the trap of seeing our kids as our report cards. God calls us to answer their questions, train them, and lovingly discipling them without exasperating them. So when they obey, that must mean that we are succeeding; and when they disobey, we've missed the mark. Right? (Total Family Makeover pg. xi)
This mindset is so wrong! God was the perfect parent to Adam and Eve. Look how that turned out! My grade on my parental report card isn't based on the behavior and choices of my kids. My first hurdle is realizing that my boys are little humans in their own right – little humans created with the same free will that God gave to me!
If I take credit for the failures, then I also take credit for the successes. But, that's taking glory away from God. The reality: the final outcome belongs to God.
Then what is my responsibility?
It's to be faithful to God with the job He has given to me. It's my responsibility is to disciple my kids. I point them down the path to God, but in the end it's up to God and each of my boys to run the race.
How do I disciple my kids?
While my boys read and study the Bible at the beginning of the day, my husband misses out on this time because he leaves for work before our day at home has really begun. We decided to use dinner time more productively by doing a study about work – one of the areas most in need changes in attitude and perspective in our family.
Personal study is important, but just like we need to be in a church community, we need to be studying as a family. We learn by helping each other understand God's word. We all are moving in the same direction because we're focusing on the same topics.
We've seen a change in our boys since starting these dinner-time discussions. They themselves are finding things in every day life and pointing out how what we've studied applies.
But discipling your kids is about much more than just studying the Bible with them. Discipleship encompasses everything we do to teach another person how to be a Christ-follower. That's a big responsibility! I was spent a copy of a new book that I think you'll find helpful on that journey: Melissa Spoelstra's book Total Family Makeover.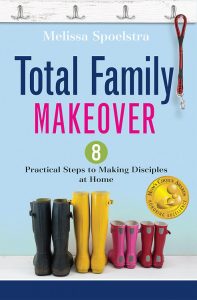 God calls us as parents to be key disciple-makers in our children's lives, but if we're honest, some days it's a battle just to get them dressed and ready for school on time. How can you mold their hearts when sometimes you can't even find their shoes?
In Total Family Makeover, Melissa discusses 8 ways to point your kids to God. These are 8 basic practices of faithful parents and discipleship:
Spending time in prayer.
Reading God's Word.
Growing though mentoring.
Finding community in the church.
Serving other.
Taking time to rest.
Giving back to God.
Sharing your faith.
What I like about Total Family Makeover is that Melissa takes each of these aspects of discipleship and breaks it down to the basics. Using Scripture and personal examples, she walks you through:
How did Jesus model this?
How can I model this for and train my kids?
If you want to go deeper on any of the 8 areas, you can go through the group discussion questions or read additional Scripture passages related to that topic. I think it would make a great book for a small group, parenting group, or women's group study.
After reading Melissa's explanations, I feel like our family is currently lacking in the areas of prayer and service. I found some great suggestions in the book for growing in these areas like:
Creating triggers for praying for each of my boys during the day.
Creating a prayer journal format that works for me.
Being more intentional about talking about the ways that my husband and I serve and why we serve in those ways.
Motivation to find service opportunities that are age appropriate for our kids.
Total Family Makeover Giveaway!
I'm excited to be participating in a blog tour for Total Family Makeover. For you as my readers, that means you can also participate in a fun giveaway to help your family begin your family makeover journey!
Begin to build your family discipleship and become the key disciple-makers in your children's lives with Melissa Spoelstra's new book, Total Family Makeover. Disciples are made, not born. Whether your children are babes in arms or teenagers getting ready to leave the nest, making disciples at home starts with you! Give your family a makeover with this practical approach to helping your children learn what it means to be a follower of Jesus.
Plan an evening of fun, pizza, devotionals, and games with your family! Melissa is giving away a Family Fun Night Prize Pack.
One grand prize winner will receive:
Enter today by clicking the icon below, but hurry! The giveaway ends on October 7. The winner will be announced October 10 on Melissa's blog.
Read the first part of Total Family Makeover here:

Material Disclosure: I was given a complimentary copy of Total Family Makeover. All thoughts are my own.