Thank you so much to everyone who participated in the HEART Book Club!  It has been a wonderful time getting to know each of you and reading through Rachael's book together.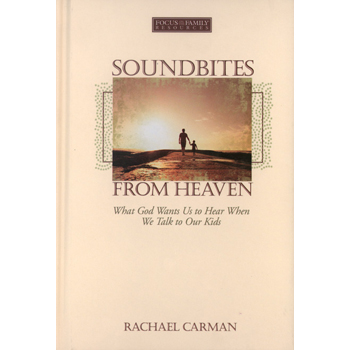 Apologia and I want to let you know about Rachael Carman's book Soundbites From Heaven.  Here's a little about the book:
You've said it to your kids – but did you know God is saying it to you? In fact, your heavenly Father wants to tell you the same things you've probably told your children:

"I remember the day you were born."
"Turn down the music!"
"This is going to hurt me more than it's going to hurt you."
"Hold my hand."

Rachael Carman knows how noisy it can get when you're raising children – she has seven! SoundBites from Heaven will help you hear God's still, small voice in the chaos of carpools, cut fingers, and carpet crawlers. You'll learn how to listen to God's instructions for YOU, while you parent your children.
Apologia will be hosting a 52 week link up beginning on April 1 called Soundbites From My Life.  Watch the Apologia Live Blog for more info and the start of that link-up.
You're going to want a copy of the book so you can participate!  So, to cap off the HEART Book Club, we're giving away 3 copies of Soundbites From Heaven.  Follow the instructions in the Rafflecopter form below.

a Rafflecopter giveaway
Can't see the giveaway in your email or RSS reader?
More information will be coming soon about my next book club, which will start the first week in April.  Subscribe to The Pelsers by email so you won't miss a thing!