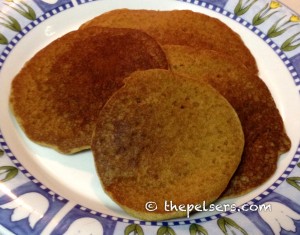 I've been working on my gluten-free pancake recipe for a few months.  Every time I make pancakes, I tweak it a little more.  Josh says that the batch I made this week was the best and "perfect".  That came from a very picky eater!  I used my standard red Betty Crocker cookbook as the basis for my recipe and modified from there.
Ingredients:
1 cup milk (or dairy-free milk)
1 egg
1/2 cup brown rice flour
1/2 cup teff flour
2 Tbs tapioca or potato starch
2 Tbs oil
1 Tbs honey or sugar
1/2 tsp salt
1/2 tsp xanthan gum
1 Tbs Baking Powder
Directions:
Add milk and egg to a mixing bowl.  Wisk together.  Add remaining ingredients except the baking powder.  Stir until combined.  Add baking powder.  Let sit a few minutes.  Batter is usually quite thick.  Add small amounts of water to achieve your desired consistency.
Pour batter onto hot griddle to desired size.  Cook until browned.  Flip and cook until browned.
Makes 12-16 pancakes depending on size.
Josh thinks that the combination of the brown rice and teff makes these pancakes taste almost like his mom's wheat germ pancakes.  They turn out fluffy and it can be hard to tell that they are gluten-free in my opinion.
Don't have teff flour?  You could use 1 cup of brown rice or try substituting millet flour for the teff.  Need to go dairy-free too?  Substitute soy, rice, coconut, or almond milk.  I successfully used almond milk when I was dairy-free for Jacob.
If you try the recipe, please come back and tell me what you think.