The following is a guest post from Susan Mathis. Susan is thankful to be married to her wonderful husband and to be the mother of their three great children.  She also enjoys writing for FreeStuffandSamples.com, and living in the suburbs of our Nation's Capital.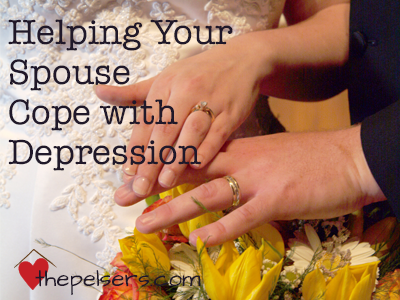 Helping Your Spouse Cope with Depression
During our 20 years of marriage, both my husband and I have suffered from both short and long term bouts of depression.  While both our conditions are currently well managed with medication, there have been times when each of us has been simply overwhelmed by our personal seas of sadness.  Fortunately, God has helped us learn how to both cope with our own problems and help the other cope with his.  Some of the best instructions for how to do this come from the  7th verse of I Corinthians 13.
"Love bears are things, believes all things, hopes all things, endures all things.  Love never fails."
Bear
Bear extra responsibilities that your spouse finds overwhelming.
It's easy to blame someone for not doing what you think he ought to do.  For instance, I sometimes criticized my husband for not taking up more time with the kids.  What I realize now that some days it was just too difficult for him to be cheerful and play with them.  If he tried it would sometimes backfire, with him becoming even more discouraged.
Likewise, my husband has been very supportive of me on days when I just couldn't cope with life.  He does the laundry, makes dinner and even looks over the kids' schoolwork.
Believe
Believe that there really is a problem.
One of the biggest mistakes I made when my husband first started suffering from clinical depression is to say, "Can't you just decide to have a better attitude?"  Rest assured I truly regret this attitude and am eternally grateful that he has forgiven me.  The simple truth is that none of us knows how another person really feels.  So, love (and Christian charity) demands that we believe that he is telling us the truth when he says he's depressed.  To do otherwise will just make matters worse for both you and your spouse.
Hope
Help him/her keep up hope that things will get better.
Depression and hopelessness are often closely linked.  That is why it is critical that you keep your hope up, especially when his/her hope is at its lowest.  We have a saying around here that at least one of us must be sane at all times.  One of us has even been known to "call a day" early in the morning, saying that the other one is going to have to try extra hard to stay up because the other feels so down.
Endure
Look to Christ for the strength to endure whatever happens.
It is important to remember that even Christ himself sometimes felt tremendous sadness (consider Gethsemane or when Lazarus died).  While this is not the same as clinical depression, He still knows what it is like to feel miserable.  Thus, He is able to sympathize with how we are feeling.
Love Will Never Fail
Let your spouse know that your love will never fail.
When you got married, you promised to stay together "for better or worse…'til death do you part."  Make sure that your spouse knows that you still mean that and that, in spite of any situation that may come along, you will always be there for him.  This type of assurance is especially important because, during the darkest days of depression, it can seem like it would be impossible for anyone to love us that much.  Make sure that he/she knows that you still do.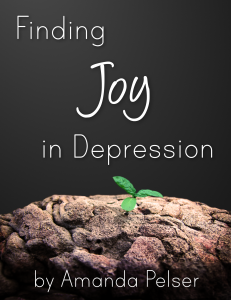 Need more support in dealing with your own depression or supporting a loved one? Pick up my ebook, Finding Joy in Depression, in PDF, Kindle, or Nook formats for $4.99.