In my life this week…
I haven't written a journal entry in a while.  I took a break and was writing a lot of other things like 31 Days of Finding Joy in Depression and a lot of book reflection posts.
In our homeschool this week…
We're working our way through Truth in the Tinsel.  I love how simple the crafts are and how everything is laid out for me.  Kids crafts are not a strength for me.  It's not too late to jump in and join us.  Making an advent calendar can be really easy.  Take a look at how I made our simple homemade advent calendar.  If you're doing Truth in the Tinsel, link up with me on Wednesdays during Kids in the Word.  I've dedicated Kids in the Word Wednesdays in December to Truth in the Tinsel.
Jonathan finished Math Mammoth Subtraction 1.  That's the third Blue Series 1 book he's done this fall.  In January we're going to breeze our way through Light Blue Series Grade 1 and focus on committing the basic math facts to memory.  For the rest of December, we'll focus fun things like Splash Math Grade 1 and Cross Fingers on the iPad to keep math fresh.
We read Winnie-the-Pooh and The House at Pooh Corner in the last month.  Those were big hits!
I added Story of the World Volume 1 and the activity book to our curriculum last month.  Jonathan loves listening to me read to him and history has piqued his interest.  We're making our way through ancient Egyptian history right now and he is loving it.  I'm surprised how well he's taken to the map work too.  We skipped a book in Magic Treehouse so he could read book #3 about mummies now.  I offered to take him to the mummies exhibit at our children's museum, but he says that the mummies scare him – no mummies for us as of right now.
Things I'm working on…

I'm working on a book club for How to Have a H.E.A.R.T. For Your Kids.  It starts on January 2.  See all the details in the announcement from earlier this week.  Next week, Apologia is giving away 2 copies of HEART here at The Pelsers!
I'm reading…
In addition to How to Have a H.E.A.R.T. For Your Kids, I'm reading Happily Ever After by Gary Chapman (author of The Five Love Languages) from Tyndale for a review.
I'm cooking…
I made gluten-free potstickers / chinese steamed dumplings.  I'm a litte shocked that they turned out so well.  Josh was happy!
I'm grateful for…
A new niece was born late last night.  She's the first granddaughter and girl cousin on that side of the family.
A photo, video, link, or quote to share…
Red Robin now has gluten-free buns available.  That makes Josh very happy!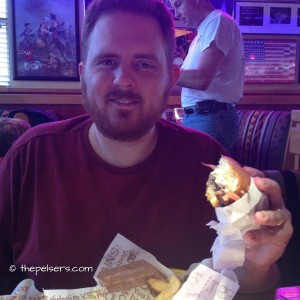 *A