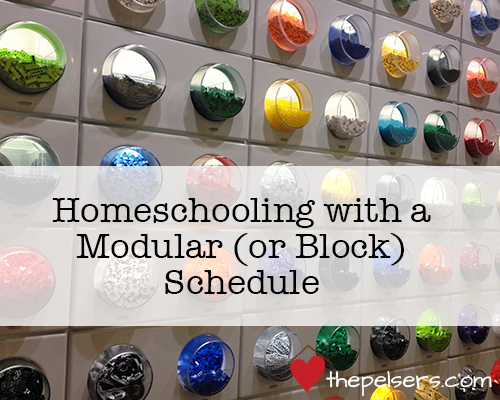 Homeschooling Philosophy
I started off as a Charlotte Mason homeschooler. I still believe in much of the Charlotte Mason philosophy for learning, but I've added in some elements from the Classical model that mesh well. I also hold to some tenets of child-directed learning and following your child's learning style.
I began to experiment with a modular schedule this past spring as I was nearing the end of my pregnancy with Josiah. It was difficult for me to plan and prepare too many different subjects or activities at once and I found in the process that Jonathan thrived on fewer transitions during our school time. Jonathan has a better attention span if he doesn't have to change subjects as many times through the day. He's a little boy and still needs breaks, but he likes to immerse himself in whatever he's learning.
Moving to a Modular Schedule
Beginning with this school year, I'm moving away from the short lessons recommended by the Charlotte Mason method. Instead, we're moving homeschooling with a modular schedule. You could also call this a block schedule. This school year, we started with Bible, math, and science. We do each subject every day, Monday through Friday. Our day looks something like this:
Read Bible together.
One math lesson.
One or more science sections with notebooking and laptbooking.
Read one chapter in an assigned book.
Possible read-aloud with notebooking or lapbooking.
Additional free time for typing, books, or games.
This schedule is currently taking us around 2-3 hours of focused time with me plus around an hour of additional time alone for reading or completing notebooking. Sometimes we go a little longer if we really get into reading something together.
My current plan is to rotate science, history, spelling, and writing/grammar every 4-6 weeks when we hit a good transition point. I'll also give some math breaks at points between chapters. If he gets to the end of the math 3A before Christmas, we'll take an extended formal math break before beginning math 3B.
Your Turn!
What changes are you making in your homeschool this year? Have you tried a homeschooling with a modular schedule? Share in the comments.
Original Photo Credit: The LEGO Store – Aventura Mall by Ines Hegedus-Garcia (CC-BY)