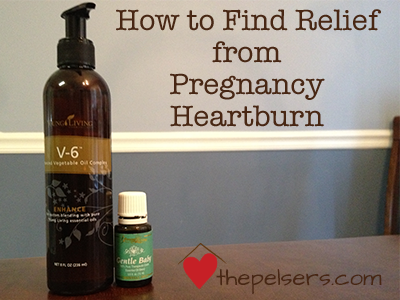 In this, my third pregnancy, the
pregnancy heartburn
started very early. I started experiencing that yucky burning feeling around 14-15 weeks. With my first two, I didn't have any pregnancy heartburn troubles until very late in the third trimester. Like everything else in our home, I wanted to find a way to deal with pregnancy heartburn as naturally as possible.
My Search for Pregnancy Heartburn Relief
I found that two of the best ways to treat heartburn naturally are using either lemon essential oil or peppermint essential oil. I would have reached for the peppermint under normal circumstances, like I would if I had a headache. Josh has used peppermint successfully for heartburn. Unfortunately, peppermint should be used sparingly during pregnancy and I didn't have any lemon oil when I was in pain. Then, I found my relief at the end of the list of recommend oils for heartburn: Gentle Baby.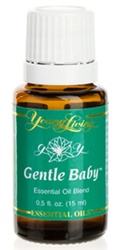 Gentle Baby is a therapeutic grade essential oil blend from Young Living Oil. It contains geranium, rosewood, coriander, palmarosa, lavender, ylang ylang, roman chamomile, lemon, jasmine, and rose oils.
How to Use Gentle Baby for Pregnancy Heartburn
Apply 1-2 drops of Gently Baby over your thymus. I rub it in from my neck straight down to the middle of my chest. I have used Gentle Baby alone (or neat) and it works well, but I have found more complete and longer lasting relief from pregnancy heartburn when diluting it with a carrier oil. I like V-6 massage oil because it doesn't stain and it rubs in well. Put a small amount of V-6 oil in your hand and add to that 1-2 drops of Gently Baby. Use the other hand to mix the oils together. Then apply over your thymus.
I usually feel relief from my pregnancy heartburn starting to set in within minutes. Most of the time, I have the worst heartburn just before bedtime and when using Gently Baby with V-6, I've not to this point woken up in the middle of the night needing to reapply.
Need some relief from pregnancy heartburn, regular heartburn or know someone who does? You can get Gentle Baby, V-6, and many other oils in my Young Living Oil store. If you're local to the Charlotte, NC area, I place an order at the beginning of each month and offer FREE shipping when you order with me.
Disclaimer: I am not a doctor. This is not medical advice. These products are not intended to diagnose, treat, cure, or prevent any disease.