She screamed a scream that made my heart hit my throat and then drop to my stomach.
No, she wasn't hurt. She was scared.
We were walking to the back counter of the pharmacy. We walked down the aisle filled with spooky things for Halloween. Another child jumped from behind a display wearing a bloody mask and you would have thought my seven-year-old was going to come undone.
Fear. It grips our hearts – but how can we pry off its fingers?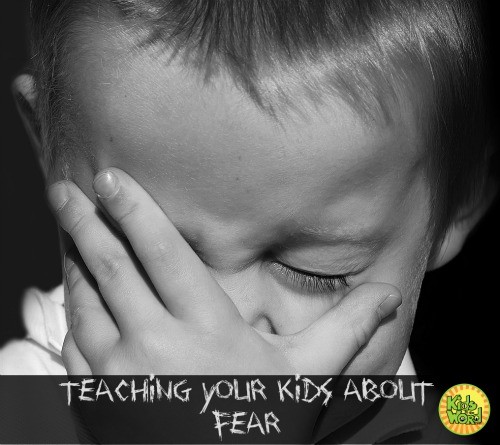 It isn't just scary masks. Thunder, noises, death. There are lots of things that scare our kids. There are lots of things that scare us as adults too! We need to help our kids learn how to deal with their fears in a way that is positive and biblical!
Fear is real. There are many things (that are real) to be fearful of in our world. I don't often let my kids listen to the news because there is real fear out there. However, we can help our kids – and ourselves – rest safely when we rest in the One who is in control.
What the Bible Says about Fear
The Bible has a lot to say about fear. Actually, it says "fear not" 365 times – perfect for each and every day.
Even though I walk through the valley of the shadow of death, I will fear no evil, for you are with me; your rod and your staff, they comfort me. (Psalm 23:4 ESV)

The LORD is my light and my salvation; whom shall I fear? The LORD is the stronghold of my life; of whom shall I be afraid? (Psalm 27:1 ESV)

The LORD is on my side; I will not fear. What can man do to me? (Psalm 118:6 ESV)

…for God gave us a spirit not of fear but of power and love and self-control. (2 Timothy 1:7 ESV)

…do not be anxious about anything, but in everything by prayer and supplication with thanksgiving let your requests be made known to God. And the peace of God, which surpasses all understanding, will guard your hearts and your minds in Christ Jesus. (Philippians 4:6-7 ESV)

Be strong and courageous. Do not fear or be in dread of them, for it is the LORD your God who goes with you. He will not leave you or forsake you. (Deuteronomy 31:6 ESV)
These are just a handful of verses that remind us that God is with us – we need not fear!
How to Help Our Children Deal with Fear
So, what are some practical things we can do to help our children deal with fear?
Pray with them – There is power in prayer! We need to help our children know that God is with them, and that they can talk to Him. We can help our children know that when they are afraid, they can trust God and talk to Him about their fears.
Memorize scripture – We can help our children memorize the scriptures above. Then, when they are afraid, they can repeat those verses back in their hearts and heads as a reminder of the promises God has given us.
Worship – Worship can be a powerful tool. Pick songs that worship and praise God and use this moment of fear to thank God for who He is and to praise Him for what He has done.
Talk about times when God has protected us before – This is powerful. Every time my little one is afraid, we always talk about times she has been afraid before, and how God has helped her get through those times. This helps her to know He will do it again.
Remember, fear is real. Even if it isn't real – in your child's mind, at that moment, it is very real. Don't belittle them, but instead encourage them to walk through the steps to not being afraid.
What are some ways you help your children deal with fear in their lives?
Teach Your Kids to Have a Devotional Time
Teaching your kids grow their own faith doesn't have to be difficult. Get this downloadable guide to help you teach your kids to have their own devotional time!