I'm jumping back into Hello Mornings this fall. I need a change from the Good Morning Girls study style and I need a break from leading. So, I joined my friend Rebecca's Hello Mornings group.
We're studying 1 Peter using Lara Williams and Katie Orr's new ebook. As I started to print it, I discovered that I didn't want to use a separate journal. I wanted everything to be all together in one place. So, I thought for a moment and came up with a plan. If I printed the ebook single side, I could print journaling lines on the back of each page and insert extra pages before binding it together. And so became my self-contained Bible study and journal.
Here's the step by step, easy-peasy instructions that will work with any ebook that you want to turn into a self-contained Bible study and journal.
How to Make a Self-Contained
Bible Study and Journal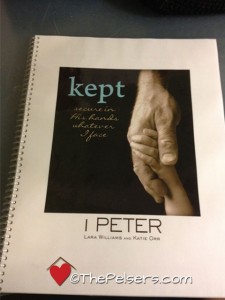 Supplies
Bible study ebook file such as 1 Peter by Lara Williams and Katie Orr
Journaling lines PDF, available as a FREE printable below
Paper
Binding machine and coil or a 3-ring Binder and 3 hole punch
Laminator and 2 pouches (optional)
One sheet of card stock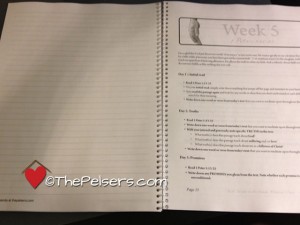 Instructions
Print the Bible study ebook using your print, single sided. To save toner, I usually print my cover in color and print the inside pages in blank and white.
Reload the pages into your printer in the right orientation to print on the back side. Print the journaling lines on the back of each of the pages. With 1 Peter, you could skip the first few pages if you'd like.
Print desired number of extra journaling pages, front and back. I did enough for after each lesson plus some for the end.
Insert extra journaling pages at the end of each lesson/week. Put the remaining pages at the end of the book. Add additional pages wherever you'd like them to be.
Optional: Laminate your front cover. Laminate a sheet of card stock or additional sheet of printer paper for your back cover. I do this to help my book hold up with use. If you're using a binder, you can skip this step.
Punch holes in your pages using your binding machine or 3-hole punch.
Assemble your book using the binding coil or 3-ring binder.
Simple as that!
Here's the simple lined journaling page that I made that you can use to print your journaling lines: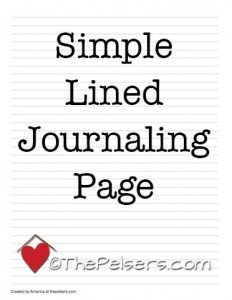 Click the link below to download:
Come back and share your self-contained Bible study and journal! Let us know how you made it. If you make something else with the simple lined journaling page, I hope you'll share that too.
Teach Your Kids to Have a Devotional Time
Teaching your kids grow their own faith doesn't have to be difficult. Get this downloadable guide to help you teach your kids to have their own devotional time!