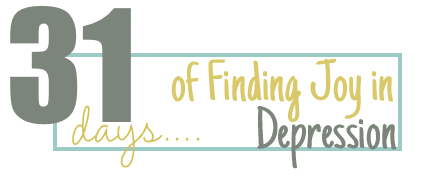 This is day 26 of 31 Days of Finding Joy in Depression. Yesterday, I shared about chocolate and depression. Today, I'm talking about coffee and depression.
I was never a coffee drinker until after I had Jonathan, but I still have to have a lot of milk, flavorings, and sugar in order to drink coffee.
There is a study that shows a correlation between drinking coffee and lowered risk of depression in women.  This seems to be another issue of boosting serotonin in the brain like with chocolate and depression.  Seems like coffee could be a good thing in moderation.
Just like chocolate, you need to be careful of the sugar that you add to your coffee.  I like making my own homemade vanilla syrup and chocolate syrup so I can control the amount of sugar.  One of my best ever Christmas gifts was an espresso machine from my husband a few years ago.  I love steaming my own milk, making the espresso, and experimenting with flavorings.
Maybe my inner barrista is trying to get out?  Or maybe it's just the simple pleasures and simple indulgences that can boost my mood.
Do you drink coffee?  How does coffee affect your depression?
If you deal with depression, please comment and share your journey too.  If you're a blogger, you can use the button and code below to share your story and link back on your blog.  Feel free to leave links to your posts in the comments area.

I'm linking up with The Nester and others who are writing 31 posts this month on various topics.  I'm not a doctor or a counselor and this is not intended to be medical advice.  This is simply the story of my experience with depression.