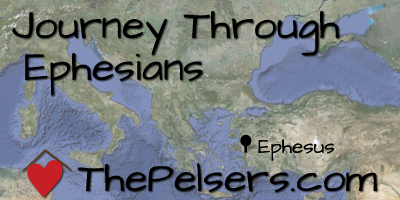 Welcome to Journey Through Ephesians!
Today is the kick-off of my Journey Through Ephesians group and series.  This group is one of many group studying Ephesians with Good Morning Girls.  My Facebook group has reached it's max of 20 participants, but you're welcome to comment and link up here as well as on Twitter using #jteph.
So, how does this work?
Make sure you're subscribed to the posts at GoodMorningGirls.org.  Think of this like our book and video part of the study.  They have a M-W-F posting schedule.  You'll get resource suggestions, insights from others, and a weekly video.  Be sure to like Good Morning Girls on Facebook too.
Download and print the study guide.  There's a page for each reading.  If you use a journal or other notebook, you won't need to print the whole thing, but I do recommend printing the page with the schedule.
Learning about the SOAP method.  SOAP stands for scripture, observations, applications, and prayer.  This is a simple process – write out the scripture, lists a few observations, record at least one application or thing you can do based on the passage, and finish with a prayer to God.  If you want to do this electronically, try soapstudy.com or youversion.com.  SOAP Study creates a database of your readings with fields for each of the SOAP elements.  YouVersion lets you create free-form notes and tag verses.
Read the scheduled passage each weekday morning.  Readings are only scheduled M-F.  This is nice because your weekends are probably very different from your weekdays.  Plus, if you get behind, you have two additional days each week to catch up.
You don't need any additional books, but if you'd like a commentary, try this Amazon search to find free and cheap Kindle books.  You don't need a Kindle or a mobile device with a Kindle App; you can also read using the PC or Mac app or the new Kindle Cloud Reader that works in a browser.  Remember to always check into the author to know their angle and bias.  Always read commentaries with discernment.
I'll be posting on Sundays about something in the previous week's reading.  Included will be a link up.  If you're reading Ephesians and are blogging about it, link up your posts.  Go read the simple guidelines and grab buttons to add to your post.  I'd love to read your insights through the comments and your posts!
If you're in my Facebook Group, check in at least weekly to let us know how you're doing and any insights you'd like to share from your reading.
Tweet with me using #jteph.
I'll be updating this post as I can with the new posts throughout the series so you can use this post as a starting point at any time.
Got questions?  Reading with me?  Leave a comment or use my contact form to send me an email.
Teach Your Kids to Have a Devotional Time
Teaching your kids grow their own faith doesn't have to be difficult. Get this downloadable guide to help you teach your kids to have their own devotional time!