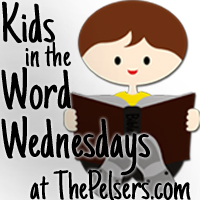 Jonathan is continuing to read from Genesis and write in his journal
. We're also using We Choose Virtues and trying to work on developing obedience and self-control in particular right now.
Jacob inherited Jonathan's old "The Beginner's Bible" this past week. It was so cute when Jonathan gave it to him. He said, "Here baby. Here's my special green Bible. It's yours now!" Ok, so maybe you had to be there, but it was adorable. Jacob is loving it and flipping through the pages frequently.
I'm exhausted and nauseous from growing Baby #3 and well, that's all I have in me this week to share….
So, it's your turn! How have you kept your kids in the Word this week? Share in the comments or link up a post about kids AND Bible, character or worldview.