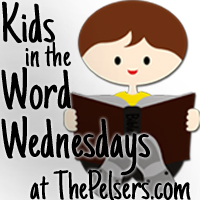 Can you believe that it's almost Christmas? Have you thought about how you're going to point your kids to celebrate Jesus this Christmas instead of the commercialism that surrounds us? I have a few suggestions for you: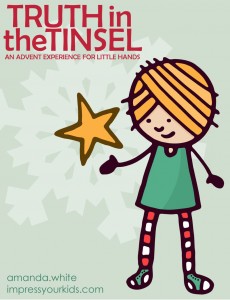 Truth in the Tinsel
We used Truth in the Tinsel last Christmas and will use it again this year. It's a great ebook! There's a portion of the Christmas story to read each day of advent plus instructions for making a fun ornament. We even made our own simple homemade advent calendar. Jonathan loved going first thing in the morning and seeing the clue for that day.
Truth in the Tinsel is $7.99 for the PDF ebook. It's also available in Spanish this year. Also new this year are printable ornaments that you can color with your kids. Those are $3.99. I'm planning to do the printable ornaments with my boys this year. If you're in charge of children's curriculum at your church, you might also be interested in the Truth in the Tinsel Church Curriculum that was just released.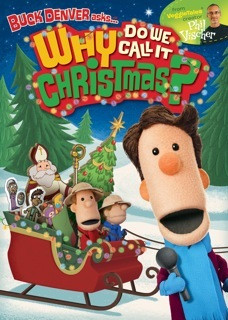 Why Do We Call It Christmas?
Do your kids love Buck Denver and What's in the Bible? My boys do! The Why Do We Call It Christmas DVD is a favorite that is played all year long at our house. These crazy puppets take your kids on an adventure to learn about the origins of Christmas traditions such as the Christmas Tree, stockings, and St. Nicholas. We have all of them and they are incredible in my opinion as a seminary grad.
If you can't see the coupon images in your RSS or email, click through to view this post.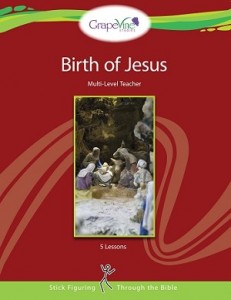 Jonathan and I have been going through Birth of Jesus from Grapevine Studies this month. We love Grapevine Studies (and their creator Dianna who I work for and got to meet at 2:1 last spring)! Birth of Jesus takes your kids on a stick figure adventure through the Christmas story. See our reviews of Joseph and Esther to get a better feel for the format of Grapevine Studies.
See what Grapevine Studies are like by downloading this free Joseph eLesson.
Birth of Jesus comes in print and ebook options. You'll need a student book (starts at $5.50 for the ebook) and a teacher book (starts at $9.50 for the ebook). Be sure to take a look at all the other great Grapevine Studies while you're on their site. Birth of Jesus is a great study to start with because it's just 5 lessons.
What other resources have you used to keep your kids in the Word and focused on Jesus during the Christmas season? Other family traditions you'd like to share? How have you kept your kids in the Word this week? Share in the comments and/or link up a blog post about kids AND Bible, character, and worldview.
Disclosure: This post contains affiliate links.