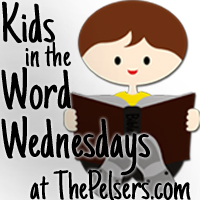 I'd like to introduce you to Craig Anderson and Worship for Kids. Craig emailed me the other day with a link to a YouTube video that my kids just loved. There was lots of dancing going on around here! Take a look:
I wanted to share it with you so, I asked him to share a few words about the video and his ministry…. Here's Craig:
The "Wonderful Books Of The Bible" was written by myself Craig Anderson, my brother Nate Anderson and my nephew Seth Anderson. I did the vocals and my brother Nate played all the instruments except for some of the guitars which were played by Dan Strain. As a side note,

Dan Strain also make a great guitar

.

My wife Jill and I started WorshipForKids.com 10 years ago. We create tools that churches, schools and families use to foster a heart of worship in children.  We also perform at KID'S events, family worship concerts, camps, retreats and VBS. Everything we do and create is sent through the filter of "Growing Kids Into BIG Worshipers Of God." We love what we do and count it a blessing and privilege to be working with the most open minded people group on the planet.
Go take a peek at the Worship For Kids Store. I hear Craig is working on a video for the New Testament books too.
Looking for more resources to help your kids learn the books of the Bible? Download my Book of the Bible copywork printable.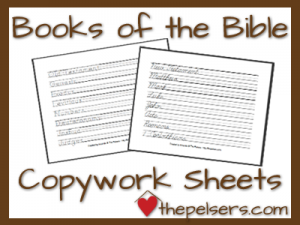 Tell me what you think of that video and Worship for Kids. Share in the comments. How have you kept your kids in the Word this week? Share in the comments or link up a post. Anything relating to kids AND Bible, character, or worldview is acceptable. Grab the button to put in your post from my sidebar.