I opened my goodie bag of swag at the 2:1 Conference to find a wonderful surprise: a Child Training Bible pack! Jonathan was snagging everything from me as I pulled it out of the bag and was intrigued by the product. Sadly, we had to wait until after the conference and our vacation before we could put it together and use it.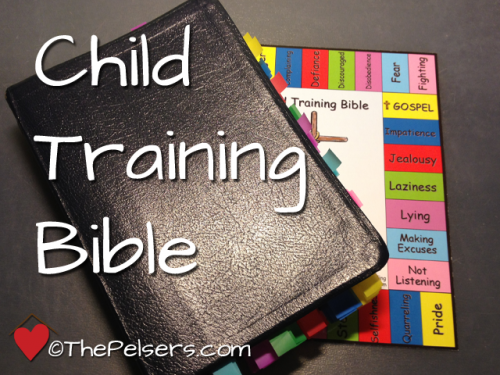 The Child Training Bible package contains:
1 Child Training Bible Key
3 Scripture Tabbing Charts (double-sided)
Set of Instructions
To this, you add:
A Bible
Sticky flags
Colored highlighters or pencils
We used a Bible that was Josh's and colored pencils. Jonathan thought it was pretty cool that he was getting Daddy's big Bible.
Take a look at this video telling a little more about the Child Training Bible and how to put it together:
Jonathan helped me with the first few flags and then, well, his 5 year old attention span wandered and I spent the next couple hours finishing up the project on my own. Yes, I did say a couple of hours – plan to spend a while putting your Child Training Bible together. While that may seem frustrating to you at first, it's actually a good thing – you're immersing yourself in the Word as you assemble the Child Training Bible.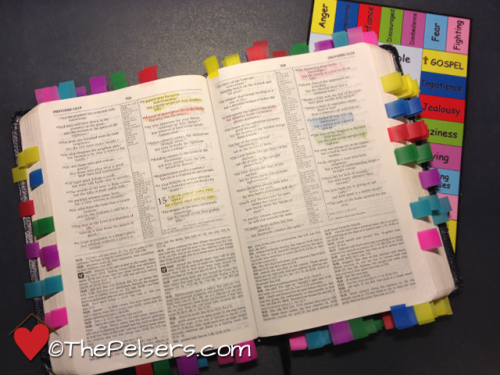 I handed the completed Bible to Jonathan and he was so excited. He likes to flip through and find the marked verses and read them to himself. He loves his new Bible so much that he sleeps with it. Yes, if I'm looking for it, it is probably in his bed.
We've had two major occasions to use the Child Training Bible:
We had some minor issues with disobedience shortly after completing our Child Training Bible. We looked at the cards, found some verses on obedience, and talked about how and why we should obey.
There are a could of slightly older boys in our neighborhood who have been found to be bullying recently. After a not so nice run in with these boys, we pulled out the Child Training Bible and looked at verses about wrong friendships and quarreling. It really made an impact on Jonathan and how he relates to these particular boys now.
I love how simple the Child Training Bible is and how Jonathan at only 5 years old can look at the colors and categories to find verses himself in the Bible. These are verses and lessons that will stick with him forever.
Want a Child Training Bible package? You can buy them for $9 on the Child Training Bible website. But, I also have one to giveaway to a lucky reader! Enter using the Rafflecopter form below by 11:59:59pm on June 12.
a Rafflecopter giveaway
Can't see the giveaway in your email or RSS reader?
What do you think of the Child Training Bible? How have you kept your kids in the Word this week? Share in the comments and link up blog posts related to Bible, character, and worldview activities, stories, etc with kids.