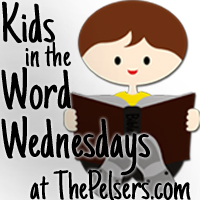 We finished our Grapevine Study of Joseph and have gone back to reading out of Egermeir's Bible Story Book.  We completed the sections on the united kingdom of Israel and have entered into the stories of the kings of the divided kingdom.  A great supplement for reading about the kings is What's in the Bible? volume 5 and 6.
Jonathan says these are his favorite DVDs. I think we have watched these much more than the first four, but we love all of them. It's been awesome to listen to Jonathan memorizing the order of the kings – I have a MA in Old Testament and I don't have the kings memorized!
The iHomeschoolNetwork has gathered some fabulous bloggers for a "10 Days of…" series. I wanted to make sure that you see the "10 Days of Teaching God's Word" series at Homeschool Creations. Should be some great tips and printables in this series.
Your turn! How have you been keeping your kids in the Word this week? Share what you've been doing by linking up a post or leaving a comment. {Grab the button from my sidebar.}