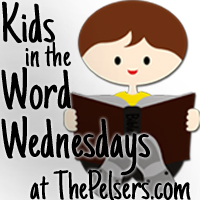 Kids in the Word Wednesdays
We had the opportunity to meet the Rodina family at the Teach Them Diligently Convention a few weeks ago.  Their booth in the vendor hall was quite the popular place!  Why?  They had a massive screen with chairs set up in front of it and they were repeatedly showing this movie:
Jericho: The Promise Fulfilled is stop motion animation movie made from Legos.  Take a look at this trailer:
Can't see the video in your email or RSS reader?
Jonathan insisted that we had to watch the movie as soon as we got back to the hotel room that night.  Good thing I had brought my laptop with me!  We watched the movie with lots of laughter and giggles far beyond when little boys should have been sleeping.  The DVD also includes a blooper reel which was also a big hit with Jonathan.
I asked Jonathan what he 3 favorite things about the movie were and he said these were his favorite scenes:
The Battle
Marching around the walls of Jericho
Wall crumbling down
As you can imagine, it is not easy to create sequences like that using Legos!  There's a fabulous DVD extra which explains a little bit of the making of the movie and behind the scenes footage.  Josh (in case you're not aware) was a Radio, Television, and Film major at Biola University.  He focused on audio production, but as a part of his program he made a stop animation movie.  It is time consuming!  He was impressed how the medium of Legos was used to retell Bible stories.  What kids doesn't love Legos?
Jonathan at 5, Jacob at just 1, and Josh as an adult were all equally interested and captivated by the movie.  Jonathan has watched the movie more times than I can count!
You can get your own copy of the DVD for $12 at the Shatterpoint Entertainment website…  I highly recommend that you go buy one (or more!).
This has been a great way to keep our kids in the Word.  Have you seen this movie?  How have you kept your kids in the Word this week?  Share in the comments or link up a blog post.  Grab the button from the side bar to include in your post.
{Material Disclaimer:  We were given a copy of the DVD to view in exchange for an honest review.}