Teaching our children to be kind is something that we should be doing year-round. Yet, at Christmas time, children often get a dose of the "gimmies" instead of having a heart of kindness and giving. Here are some simple ways that you can keep kindness at Christmas.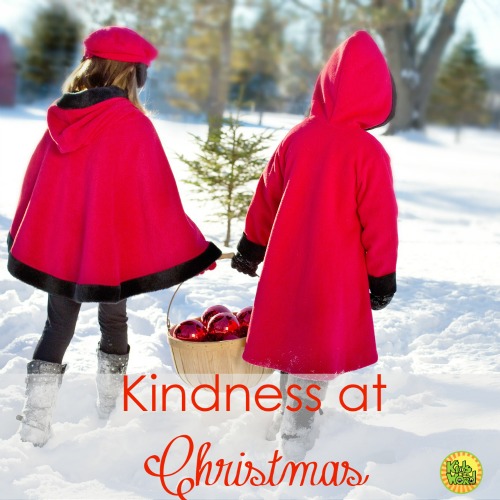 Study Kindness in Scripture
The best way to keep kindness in the front of our kids' minds it to keep them pointed to scripture. Here are a few verses that you can read with your children, and maybe even have them memorize so they can have them hidden in their hearts:

Be kind to one another, tenderhearted, forgiving one another, as God in Christ forgave you. (Ephesians 4:32 ESV)

For God is not unjust so as to overlook your work and the love that you have shown for his name in serving the saints, as you still do. (Hebrews 6:10 ESV)

But the fruit of the Spirit is love, joy, peace, patience, kindness, goodness, faithfulness,  gentleness, self-control; against such things there is no law. (Galatians 5:22-23 ESV)

Put on then, as God's chosen ones, holy and beloved, compassionate hearts, kindness, humility, meekness, and patience, bearing with one another and, if one has a complaint against another, forgiving each other; as the Lord has forgiven you, so you also must forgive. (Colossians 3:12-13 ESV)
Random Acts of Kindness
Another great way to focus on kindness is to do random acts of kindness. I usually have my kids stick to doing random acts of kindness for each other and for other members of our family. Here are some ideas:
Bake cookies for grandparents.
Send cards to family that live far away – include a picture that your child has drawn.
Encourage a child to pick a chore that a sibling doesn't like to do and have them do it for them.
Have them pick a family member to write an encouraging note to.
Kindness through Serving
Another great way to have your children focus on kindness is to focus on serving others. Different from the random acts of kindness, these are things you would do as a whole family. Here are some ideas:
Go visit homebound from your church – take them cookies and cards that the kids make. Stay and talk. Sing Christmas carols!
Operation Christmas Child.
Toys for Tots.
Work at a soup kitchen.
Take sandwiches or jackets to homeless.
These are just a few ideas – and I am sure you can come up with more! Make sure you leave some of your ideas in the comments!