Burnout.
Have you ever experienced it?
I have. Too many times. Usually, the burnout shows itself in my health, particularly in depression. I've learned over the years that I don't want to live that way, but I still experience cycles of busyness and depression. Winter is the worst because the lack of sunlight makes my depression worse some days. In addition, I'm still currently in a season of little sleep because the baby still doesn't sleep well and likes to nurse all night long. Trying to survive in an overly tired state is hard.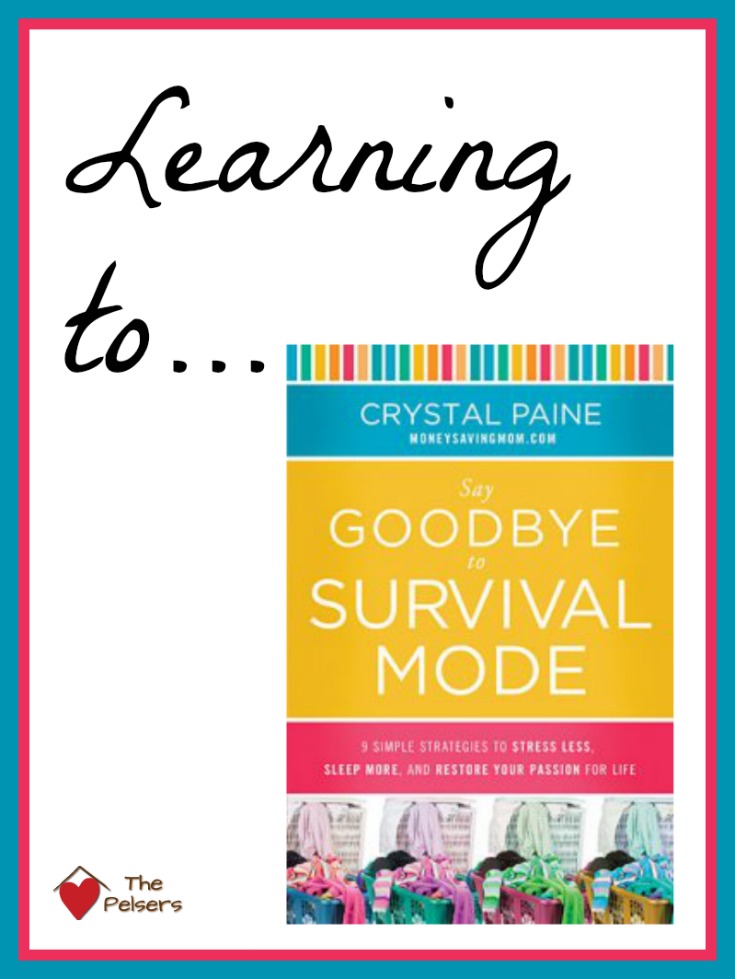 This winter, I made a conscious choice. I needed to give myself more margin in order to adequately care for myself and my family. I purposely cut back on blogging and client projects through the holidays. Then when January rolled around, I decided to continuing taking life slowly into February. In the middle of that, I picked out Crystal Paine's new book Say Goodbye to Survival Mode from BookLook to read and review for you. Reading recharges me and I knew that I needed to spend some time during this "break" reading some good books. Crystal is also a favorite author. I love reading her blog Money Saving Mom and her first book The Money Saving Mom's Budget was very helpful. Say Goodbye to Survival Mode was the perfect book for me to read last month.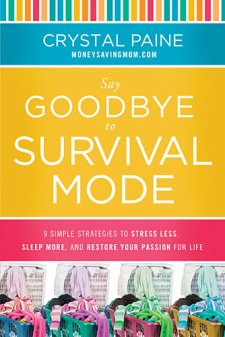 Say Goodbye to Survival Mode
There are a lot of books and resources out there about making goals, especially S.M.A.R.T. goals, and giving yourself margin in your life, and I've read a lot of them over the years. Crystal's book is different. Say Goodbye to Survival Mode is the first book I've read that talks directly to the hearts of women on these subjects.
Crystal beautifully blends inspiration and practical tips in this book. Reading her words are like sitting down for coffee with a friend who understands what you're going through. She gets the financial struggles, the job struggles, and the Pinterest comparison mindset.
She came to the realization that she was the cause of her problems. Her choices and her thoughts created many of the situations that she would find herself in. When she figured that out, she could change. She could discover her passion, set goals, and live abundantly.
Get the Book
If you're a woman looking for a new perspective, trying to figure out how to live in a crazy, stressed-out world, Say Goodbye to Survival Mode is for you. You can buy it here at Amazon or wherever you like to buy books.
Listen to Crystal
My friend Rebecca spoke with Crystal recently about Say Goodbye to Survival Mode. Listen to the podcast on Rebecca's show Rejoicing Daily.
More on Depression…
If you're struggling with depression, face it head on! My ebook Finding Joy in Depression talks about my journey to diagnosing my depression and practical tips for dealing with depression.
Material Disclosure: I received copy of this book in exchange for an honest review. This post contains affiliate links.