I guess it's fair to say that I am a fan of Biblical character training. As a mom of boys I find it life-saving to have books and resources for me, and readily available to my sons as they learn how to model their character and behavior after Christ.
Today I wanted to share a few of these resources. There is just not enough time and space to list ALL of our favorites. Seven is my favorite number so I thought it best to choose my top 7 character training resources. For this stage in my parenting, if I had to rid my bookshelves of all my character-based books except for 7, these are the ones I'd like to stay!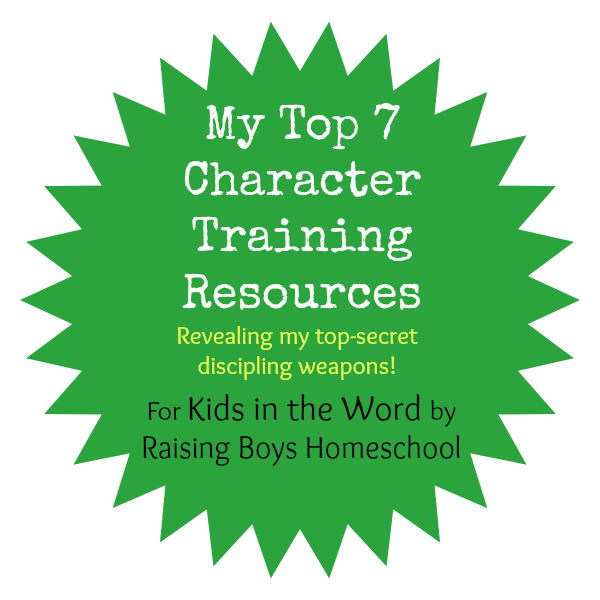 # 7: Wisdom and the Millers: Proverbs for Children
 (children 12 and under)
We read this like a devotional in my home. Proverbs is full of valuable wisdom for daily living and child rearing. I'm always reminding my sons of a Proverb here and a Proverb there. Wisdom and the Millers is a great way to have storytime, family time, devotional time, and Bible time all in one. I am sure your kids will come to know and love the Miller children. (This book presents Scripture in KJV only.)
#6: Little Lads of Virtue By Character Corner (ages 3-7 for boys)
If you have a tot-schooler through 2nd grader, you'll want to take a peek at Little Lads. Katherine teaches 24 character traits each week, making it appropriate for little ones to learn, memorize, and internalize. My favorite component of Little Lads is the "I Will" statements that help children apply the character quality to their life. (Little Ladies of Virtue is available for little girls.)
#5: Child Training Bible  (all children, all ages)
Child Training Bible (CTB) is a simple yet powerful tool that helps me as a mom so much. Whenever we have an issue I need to address with God's Word, it is so easy to go directly to the Scriptures I need for most child rearing concerns (20 key areas are taught). Also, I am able to ask certain questions of behavior and say a prayer over my boys because it's all provided there for me with my CTB kit. I spent an afternoon putting it together one day and it has served me well for a year now. (You may like the Virtue Training Bible, helpful for older children.)
#4:  The Squire and the Scroll
 (the book) & Squire and the Scroll (the devotional)
This is a staple in my home. The boys love reading the book over and over again. The story is about a young squire who travels a dangerous road with a brave knight to honor a request for their king. In a face-off, the Squire learns a secret that helps him enjoy the entire kingdom. The devotional is full of Biblical Manhood traits for little boys to learn as they grow into godly men. A must-have for parents raising godly boys! (The Princess and the Kiss
 is available for little girls!)
#3: Walking In Series…Peace, Faith, & Truth (children ages 7-12)
Each workbook is consumable and is full of puzzles, writing and drawing activities, and reflection questions that help a child know and understand what the Bible has to say about each topic. However, "Truth" is my favorite because it really goes over and above to communicate that trust is one of the most important tenets of a relationship. It highlights several ways in which children are tempted to deceive or lie and teaches the Biblical way to address those temptations.
#2: Queens Bible Series & Character Training Studies (all children, all ages)
Honestly, Queens has so many good ones I cannot list them all here. This year, we are concentrating on humble heart, wisdom, and Biblical manhood in our homeschool. Queens has studies on each area and we are overjoyed to have them as a resource in our home. They are light enough to not exhaust children but rich enough for them to notice how God's Word should be applied in their lives. These studies could be used as a devotional for the family or a personal devotional or study time for older elementary students. Either way, you will not be disappointed.
#1: For Instruction in Righteousness by Doorposts (all children, all ages)
I co-use this resource with my CTB Bible. I love the prayers CTB has for me to pray over my sons; but Doorposts wins my heart with For Instruction in Righteousness because it specifically names 52 common types of misbehaviors and notes what the Bible says will/should happen for a person who sins that way. This is a real eye-opener for both parents and children. Nothing corrects behavior in my home more than to know what God has to say about it and its consequence. This topical Bible not only helps correct children but it also teaches me how to be a more godly parent. (I highly recommend their parent checklist.)
So, what's your favorite character training resource? I'm always eager to add more!