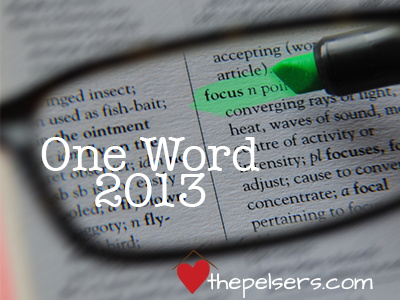 I've been mulling over my "one word" for this year for several weeks. Last year, my word was perfect. Rediscovering perfect to be specific. There's so much more I wish I could have done with this word and that could still come over the course of this year. I didn't write as much as I'd originally planned to about perfect, but that's ok. God was working in me to be learn to be whole and content in Him, not in myself, through rediscovering a Biblical meaning of perfect.
This year, so many words came flying at me…
Simplify.
Simple.
Margin.
Content.
Enough.
But none of those words seemed quite right. There were aspects of each that were appropriate, but none of those words captured what I really felt like God is calling me to this year.
Then it hit me. Focus. Just Focus. When I focus, these other words come along.
Focus requires that I simplify and keep things simple.
Focus requires that I make and maintain margin in my life.
Focus requires that I be content with where I'm at or strive to be where God wants me to be.
Focus requires that I declare enough is enough; that I learn to say no.
So, my one word is: Focus.
My over arching goals are still the same:
My family.
Become debt-free.
Here are a few things that I'll be working on:
I have to reduce the multi-tasking.
Learn to live and be in the moment.
Take control of my schedule and routine – especially with a new baby coming this spring.
I must organize, purge, and consolidate. Everything needs a purpose and a home. If not, it must go.
Welcome to my year of focus.
Original Photo Credit: Focus by Mark Hunter (CC BY 2.0)