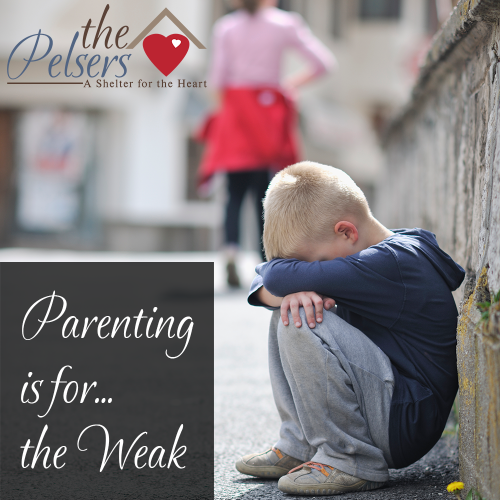 Parenting is for the weak. That may not seem to make sense but stick with me.
I've been feeling completely worn out lately. Four boys keep me running all hours of the day… and night. A nursing baby who thinks mommy is his own personal pacifier makes it tough to get a good night of sleep. Even on a good day, this parenting thing is tiring.
And then there are those really bad days. You know the days? The ones when everything those crazy boys do gets on your nerves. The days that make you feel like you're losing your mind.
And there are days that I long for bedtime when they will all go down and my job will be done for that day. Then I hear the one who can't settle causing trouble with his talking. Then someone comes out because they can't sleep. And suddenly, I'm yelling at them to go to sleep and I'm storming down the hallway flinging threats. I'm hit with the reality that parenting doesn't stop at the end of the day. My job doesn't end at sundown.
I know I'm not alone. You don't have to hide or deny it. Why? Because I know that parenting is for the weak.
Too often I've thought I had to do this parenting this on my own. I have to be the best. Don't show weakness. Don't let the kids see you struggle because they will take you down. Recently I had the opportunity to read a book that has helped me turn my mindset around.
I was sent a copy of Parenting: 14 Gospel Principles That Can Radically Change Your Family by Paul David Tripp to read and share with you.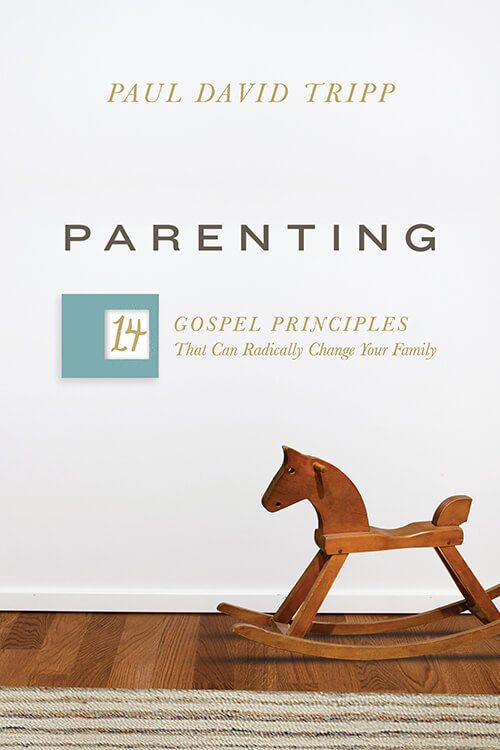 Parenting
My pastor quotes Paul David Tripp regularly. Dr. Tripp is a pastor, author, and speaker. He's written many books on Christian living related topics. His heart is to help people see how the Gospel speaks hope in practical ways to the things people experience in a broken world. He's also a dad with four kids.
I've never read one of Dr. Tripp's books before this one but I was confident it would be an enjoyable and enlightening read. I didn't expect Parenting would follow so closely along with my current study of Romans and I certainly didn't expect that it would be one of those books that would change my life.
I read a lot and it's easy to say that I liked a book or that a particular book was good. This one is different. I didn't expect this to be one of those books that I would give a place of respect and reference on my bedside table. But, Parenting has earned that status for me.
Gospel Principles for Parents
I was drawn in by the first paragraph of the introduction of Parenting:
"Your house is noisy and not as clean as you'd like it to be, you and your husband haven't been out together in a long time, the laundry has piled up once again, you just discovered there's nothing to pack for lunch, you've just broken up another fight, the schedule for the week looks impossible, you seem to have more expenses than money, none of the people around seem to be satisfied, and you feel exhausted and unappreciated." pg. 11
Continue reading the introduction and first chapter here in this Kindle preview:
Does Dr. Tripp have cameras in my house? Does he have spies in my head?
I feel so inadequate to parent these crazy boys God has given me. I want a magic 3-step process to raising good kids. But, God doesn't give me that. He gives me himself and expects me to offer the same to my kids.
Dr. Tripp explains that these simple formulas are helpful, but those formulas are useless if we do not have a foundational understand of parenting with the Gospel in mind. Parents are not owners of their children. Instead, they are ambassadors of God to their children. It's my job as a mom to represent God. To speak and act for Him. To make an invisible God visible for my kids. To do that, I must know God and then show Him to my kids.
Dr. Tripp unpacks 14 principles rooted in the Gospel that should shape your understanding of your role and responsibility as a parent.
Calling
Grace
Law
Inability
Identity
Process
Lost
Authority
Foolishness
Character
False Gods
Control
Rest
Mercy
My Takeaway from Parenting
"Rather than being unkind, it is biblical to look at your children and to understand that you are parenting fools." pg. 130
I marked up Parenting so much that there's no way I could share a list of favorite quotes and insights with you. Doing so would border on copyright infringement!
Every time I turned a page I was faced with another realization about myself and my fallen sinful nature. Each page gave me a new insight into why parenting is hard and how my biggest enemy is me.
"The mystery of the way God works is that he sends fools to rescue fools and because he does, it takes grace to be a tool of God's agenda of rescuing grace." pg. 136
In the end, my biggest takeaway is this: Parenting requires relationship. First I must have a relationship with God. Then I must have a relationship with my children. My relationship with my kids needs to be rooted in telling and retelling the God's redemption story, over and over again, through my words and my actions. I must tell that story day in and day out knowing that I'm not capable of saving my children and I'm not able to raise them on my own. In my weakness, God has called me to parent. He wants me to rely on His strength not my own.
See? Parenting is for the weak.
Giveaway
I'm really excited to be able to give a copy of Parenting to one of my readers. To enter, use the entry form below:
Tell me in the comments: What is currently your biggest parenting struggle?
Disclosure (in accordance with the FTC's 16 CFR, Part 255:  "Guides Concerning the Use of Endorsements and Testimonials in Advertising"):  Many thanks to Propeller Consulting, LLC for providing this prize for the giveaway.  Choice of winners and opinions are 100% my own and NOT influenced by monetary compensation.  I did receive a sample of the product in exchange for this review and post.
Only one entrant per mailing address, per giveaway. If you have won a prize from our sponsor Propeller /FlyBy Promotions in the last 30 days, you are not eligible to win. Or if you have won the same prize on another blog, you are not eligible to win it again. Winner is subject to eligibility verification.