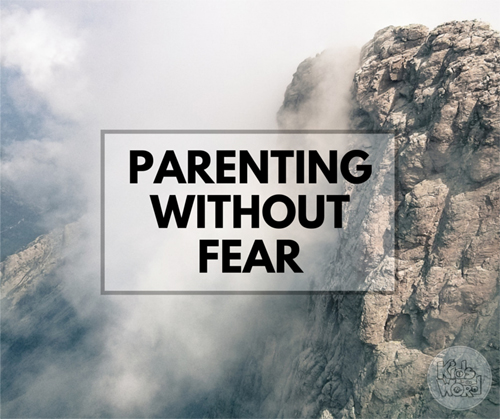 My son is a gift from God, given to us after 8 years of trying, waiting, losing, crying, praying, hoping, and waiting some more. When I finally became pregnant, it was only after repeated loss. As a result, my pregnancy with him was distinguished from the ones before him with one significant marker: fear.
For a long time in early pregnancy, I waited for the proverbial other shoe to drop. My prayers were consumed with pleadings to accept God's will, and for that will to be to spare my child's life. For a long time, I almost couldn't see or pray beyond that point. My entire prayer life where he was concerned was rooted in, provoked by, and in response to fear.
And I thought I had a right to my fear. When you'd lost as much as I'd lost, and waited as long as I'd waited, fear is a natural, human, legitimate, justified, understandable response. I was entitled to it. It was familiar to me. Even in its terror, its familiarity was a comfort to me. I knew it would never fail to show up, like hope often had. I told myself that as soon as he was here safely in my arms, I would exhale, and I would stop being afraid.
My best friend gently encouraged me that parenting is often defined by fear.
I began to understand what she meant. We feared that we wouldn't get pregnant. Then we feared that we would lose the baby in miscarriage. Then we feared for cord accident and stillbirth. I realized that she was right and that soon enough, new fears for our son would come: SIDS, dropping, falling, allergies, choking, drowning, and vaccines.
Coming fast down the pike were school, kidnapping, car accident, the opposite sex, drinking, drugs, college, graduation, marriage, grandchildren… if we allowed it to be, fear would be an insatiable master. If I allowed myself to follow fear as it dictated the course, there would be no, "once we make it through _________, the fear will go away."
Fear cannot end itself. It cannot answer itself, or replace itself with peace. It will not release you from its grasp.
How grateful I am that scripture speaks so much on fear. How generous of our good God to know how captivated our hearts could be and to respond with such an outpouring of His guidance.
I began to meditate on these verses:
"There is no fear in love, but perfect love casts out fear. For fear has to do with punishment, and whoever fears has not been perfected in love." 1 John 4:18

"Do not fear, for I am with you; Do not anxiously look about you, for I am your God. I will strengthen you, surely I will help you, Surely I will uphold you with My righteous right hand." Isaiah 41:10

"I will say to the LORD, 'My refuge and my fortress, my God, in whom I trust.'" Psalm 91:2

"For God has not given us a spirit of timidity, but of power and love and discipline." 2 Timothy 1:7

"The LORD is my light and my salvation; whom shall I fear? The LORD is the stronghold of my life; of whom shall I be afraid?" Psalm 27:1

"Be strong and courageous, do not be afraid or tremble at them, for the LORD your God is the one who goes with you. He will not fail you or forsake you." Deuteronomy 31:6

"When I am afraid, I will put my trust in You. In God, whose word I praise, In God I have put my trust; I shall not be afraid. What can mere man do to me?" Psalm 56:3-4

"The fruit of the Spirit is love, joy, peace, patience, kindness, goodness,  faithfulness, gentleness, and self-control…" Galatians 5:22

"Therefore let us draw near with confidence to the throne of grace, so that we may receive mercy and find grace to help in time of need." Hebrews 4:16

"Peace I leave with you; my peace I give to you. Not as the world gives do I give to you. Let not your hearts be troubled, neither let them be afraid." John 14:27

All scripture ESV
What those verses have in common is trust in the will, providence, power, and goodness of God. Lest the objection be raised that these verses are offered without context, I will reply that I agree. However, the truth of God's character and our response persists through them, regardless of the original context.
God was the refuge and fortress of David, but He is ours also. The author of Hebrews encouraged his readers to approach the throne of grace with the same confidence that we can have in the Holy Spirit through belief in Jesus Christ.
I began to want more for my son than my fear. I wanted him to grow in a household of faith, not a household of fear. I wanted him to see that his parents trust the Lord, regardless of the circumstances surrounding us. I wanted him to grow to cling to those scriptures in his own times of fear and uncertainty. I wanted him to have parents who guide him with humility of spirit and confidence in God's character.
How I respond to fear sets an example to him of how he should respond to fear. I don't want enslavement for him. I want freedom for him! I want him to depend on the promises in God's Word, and not on the lies of the Enemy. If I buy into the lies, how can he believe me when I encourage him to reject them?
Was I living as though I took God at His Word? Was I modeling that for my son? My fears and habits were more than just silly indulgences I gave in to in order to make myself feel better. They betrayed an allegiance to the lies that seek to steal our joy.
I stopped peeing on pregnancy tests every day to make sure I was still pregnant. I stopped obsessing over the fetal monitor I bought and I counted the kicks the prescribed amount of times, rather than around the clock. My birth plan was not eleventy billion pages long with as many contingencies.
I don't call the doctor every time he has a cold. And if I do and the pediatrician says it's nothing, I usually believe him. If he puts a dirty hand in his mouth, I don't freak out. He has play dates without lathering in sanitizer first or after. I leave him with grandparents or sitters without a litany of overprotective instructions. I check on him when I go to bed, but I sleep soundly.
If he gets hurt, I am compassionate and comforting, but commensurately so and without talk of "what could have been." I go up in the insanely high structure or building with him despite my fear of heights. I attempt to quell my natural desire to hover over him. I try to guide him to make choices based on wisdom, rather than on fear of consequences. I encourage him to try new things. I cheer him on in both success and failure.
The messages my son learns from me and other influencers in his life about fear and faith will have lasting impact on his soul. I cannot root those messages in anything other than the Word of God if he is to learn the true nature of and proper place for fear.  The Spirit of the Living God is in us, Jesus the Christ intercedes for us, and God the Father has a perfect will for us! Fear has no place in their midst, nor in ours.
Encountering the things that can scare us is inevitable. The will of God may even intentionally lead us to them. But the trustworthiness of God is unchangeable.  May each of our children come to know that in an intimate and everlasting way.