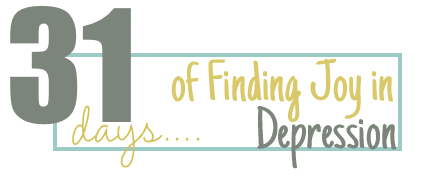 This is day 26 of 31 Days of Finding Joy in Depression. Yesterday, I shared about coffee and depression. Today, I'm talking about prayer and depression.
Prayer and depression can be a touchy subject.  I think this stems from people thinking that you can "pray away" depression.  Like with any illness or situation, sometimes God immediately heals or removes the thing, but more often he walks with us through it.
Rejoice always, pray without ceasing, give thanks in all circumstances; for this is the will of God in Christ Jesus for you.
1 Thessalonians 5:16-18
The real importance of prayer and depression is relationship and attitude.  God is our comforter and that comes from talking and walking with him.  At the same time, focusing on God rather than your depression helps elevate your mood.
Remember that prayer is not a one time thing.  We don't pray and walk away.  It is an all the time thing.  Prayer is an ongoing conversation.
Do you pray?  How does prayer affect your depression?
If you deal with depression, please comment and share your journey too.  If you're a blogger, you can use the button and code below to share your story and link back on your blog.  Feel free to leave links to your posts in the comments area.

I'm linking up with The Nester and others who are writing 31 posts this month on various topics.  I'm not a doctor or a counselor and this is not intended to be medical advice.  This is simply the story of my experience with depression.